Illustrator: Holy Crop Marks!
After Effects tends to crop Illustrator files to the size of the largest layer. Creating crop marks ultimately save you time in the long-run. In a new 720x540 Illustrator file: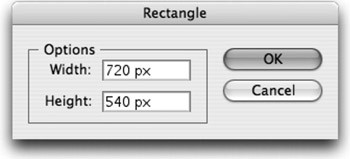 Select the rectangle tool.

Double click in the work area.

You will be prompted to enter values for the size of a new rectangle. Type 720 for width and 540 for height (720x534 if you are designing for DV or DVD).

A new rectangle is created. It helps if it is a bright color, like red. To change it's color click on a swatch.

Position the rectangle perfectly over the 720x540 artboard . Use the arrow keys to nudge. Go to Object>Crop Area>Make.

Save the file and continue to design.