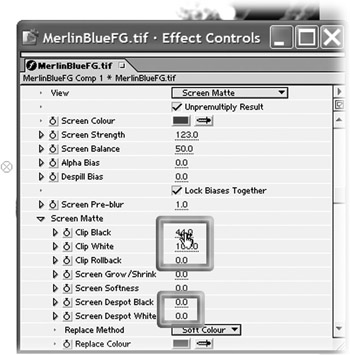 If you twirl open the triangle by Screen Matte, you'll find a slew of controls that will help you fix matte problems. While making adjustments, you may want to toggle back and forth between Screen Matte view and Final Result view.
Clip Black makes the blacks blacker; Clip White makes the whites whiter. Sometimes when you adjust these controls, you'll find that you'll ruin the edges of your foreground. If you do, use Clip Rollback (a sort of rewind function) to undo a little of the clipping and bring the edges back.

Screen Despot White removes tiny white specks that are inside the generally black background; Screen Despot Black removes tiny black specks that are inside the generally white foreground.

Your end goal, as you view the Screen Matte, should be to have an all black background and an all white foreground, with a little bit of gray around the edges. Wispy elements, like smoke, should be gray.