3.9 Examples
WebSphere Studio Site Developer provides some examples of portlet applications. In this section, we will explain how to add an example of Click-to-Action to your workspace and deploy it.
Open WebSphere Studio Site Developer and select File-> New-> Other ; in the left panel, select Examples-> Portlet Applications and in the right panel select Click-to-Action Shipping demo (Cooperative Portlets).
Figure 3-23. Creating a Click-to-Action demo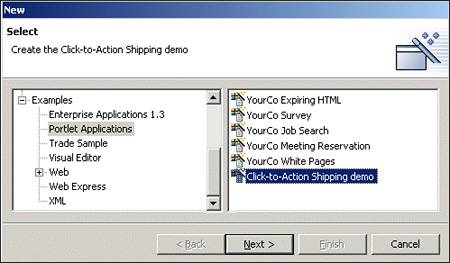 Select Next and you will see the options to define the portlet project.
Figure 3-24. Defining the Portlet Project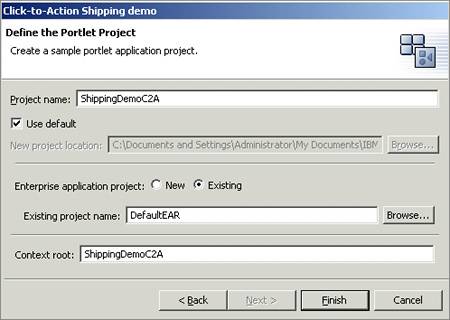 When you click Finish , the project will be created and added to your workspace. If the repair server configuration window is prompted, click OK .
The new project has added to the J2EE navigator window. Notice the directory structure, which is the same as we described in Figure 3-10 on page 137. Now there is a new folder called nls which contains properties files to support different languages. In the example, only english and default properties files have been created.
If there are more projects in the application.xml file of the DefaultEAR, select the Module tab and remove them, except for the Click-to-Action war file. Save the file. Right-click the project and select Run on Server to test the application.
Note
If you experience an error publishing to the server, go to Server Configuration and open the server by double-clicking. Click Yes in the window where you are prompted to update the entries of the server configuration and save the file.