---
The History of Business Objects
Bernard Liautaud and Denis Payre cofounded Business Objects in France in 1990. Denis Payre left the company in 1996, and Bernard Liautaud has led the company since. Business Objects has dual headquarters in both Paris, France, and San Jose, California. While such a multicultural split in headquarters can create a 'not invented here' attitude, Business Objects sees its transnational identity as a competitive advantage in a global marketplace .
In 1994, the company had an incredibly successful IPO at 17.5. With multiple stock splits , the stock today would be worth about five times the original IPO (trading at ). Today, it is traded on both Nasdaq and Euronext Paris.
Customer focus is also one of the company's core values. Every employee's compensation is tied to a customer loyalty index that is measured on a quarterly basis. Since the index's inception in Q3 2001, customer loyalty has improved from 6.9 to 7.4 in Q3 2002. According to Bernard Liautaud, the company currently performs above average and is striving to be the best in the industry. To ensure a good customer relationship, customers with greater than billion in revenue have a direct account manager. Smaller customers are handled through a newly formed General Business Group as well as by Business Objects' certified partners . Technical support is top- notch , with each problem assigned a case number and a priority, determined by the customer. Customers can log a case via a web site, search for similar resolutions , and track progress online. Engineers are quick to follow up even when customers themselves assign the case a low priority. A case can be closed only when the customer is satisfied with the resolution.
With the company focusing on enterprise-wide deployments and sales cycles that can take up to a year, customer loyalty is key. A number of the services that affect customer loyalty, such as maintenance and support, are superb. However, what once was a simple product line now is quite complex, making it difficult for customers to understand why and when they would benefit from new products. As in any company experiencing rapid growth, sales force turnover has been high and will prove a challenge in improving customer loyalty. If newly hired salespeople don't fully understand the Business Objects product line and are on a steep learning curve to build customer relationships, there is potential for missed opportunities on both sides. Business Objects is addressing these issues in a number of ways. First, there is a greater emphasis on hiring salespeople with more business knowledge, not just software experience. Second, new salespeople attend a Business Objects University program that provides training on the company, history, products, and partnerships. Finally, the company also has recently moved from a straight product selling orientation to Solution Selling methodology. This methodology requires the sales force first to focus on critical business issues faced by Business Objects' customers and then to match the products and solutions with the business issues.
Product Innovation
While early client/server computing allowed users to access data with SQL, in 1990, BusinessObjects provided a patented semantic layer that generated the SQL in friendly and familiar business terminology. Unlike in competing tools at the time, the SQL was completely open and could leverage each RDMS vendor's SQL extensions. Over the years , the company has actively sought to protect this patent, filing suits against competitors Brio, Cognos, and MicroStrategy for patent infringement. In 1999, Brio agreed to pay Business Objects a million settlement ; Cognos settled in 2002 for million. As of this writing, no trial has been set for the MicroStrategy case.
In 1996, Business Objects completely rearchitected the product to:
Move from a 16-bit application to 32-bit

Provide OLAP functionality via a microcube architecture (previously, query results were stored as flat text files)

Componentize the products to separate universe development, security, query, microcube, and analysis
By all accounts, BusinessObjects 4.0 was a major innovation. Whereas some companies were acquiring technologies to deliver integrated query, reporting, and OLAP, Business Objects was developing them. The company faced intense competition from Oracle, which had just acquired the MOLAP product Express, and Cognos, which had announced plans to integrate Impromptu (its query and reporting tool) with Powerplay (at the time, a desktop OLAP tool). The company rushed the release data and shipped an unstable product. Financial analysts issued stock warnings, and the Gartner Group, renowned for its conservatism and independence, warned customers not to implement 4.0. The product eventually stabilized, and the integration and seamlessness of the rearchitected product has been a key selling point ever since. However, 1996 and the struggles with 4.0 are something the company has not forgotten. Even as Herv Couturier, Senior Group Vice President Products, demonstrated the prebeta of BusinessObjects 6.0 at the 2002 International User Conference, he firmly declared 'the release date will be quality driven.'
The dynamic microcube is just one of the Business Objects' breakthrough innovations. Figure 1-6 and the following bullets provide a timeline of some of the company's other major product innovations: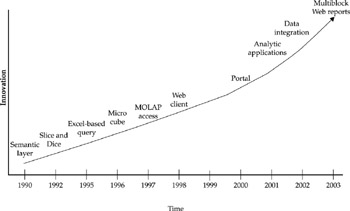 Figure 1-6: Major product innovations
1992 The Slice and Dice Panel was introduced, allowing users to add multiple sorts, breaks, filters, and calculations through an easy interface as well as to pivot data into a crosstab report.

1993 Alerters were added to highlight exceptions and provide EIS-like functionality.

1995 BusinessQuery for Excel allowed users to launch a query directly from a spreadsheet and analyze the results in the spreadsheet.

1996 BusinessObjects was rearchitected as a 32-bit application and introduced the microcube technology.

1996 Support was added for Essbase, Metacube, and Oracle Express.

1997 BusinessMiner was first launched, a data mining product that allowed users to mine query results.

1997 WebI thin client was released in December, enabling e-business intelligence in which customers shared information across an extranet with suppliers and external business partners.

2000 InfoView Portal was released, along with BusinessObjects 5i, which offered full-client capabilities in three- tier mode.

2001 Auditor was launched, allowing administrators to track use of documents, universes, and objects by users and groups.

2001 Application Foundation and BusinessObjects Analytics were launched, providing companies with pre-built applications as well as a development environment for analytic applications that uses the BusinessObjects and WebI infrastructure.

2002 WebI 2.7 was launched, providing thin-client drill-through from summary MOLAP cubes to details in relational databases.

2003 BusinessObjects and WebI 6.0 were released, bringing more parity between the MS Windows and web platforms and offering a zero-footprint client via a D-HTML interface.
Because Business Objects has developed many of its leading technologies, the different products are highly integrated and use a consistent interface. To date, the company has acquired only four companies, all of whom were originally partners:
1999 AnswerSets, later renamed Set Analyzer, was rolled into Application Foundation to enable time series- and set-based analysis, primarily in marketing applications.

2000 OLAP@Work of Ottawa, Canada, offered powerful spreadsheet access and analysis to Microsoft Analysis Services cubes. The product has since been renamed BusinessQuery MD. The technology acquired has improved OLAP access via both BusinessObjects and WebI.

2002 Blue Edge of Leeds, England, specialized in Web-based information delivery. The product, since rebranded and incorporated into BusinessObjects Broadcast Agent, allows personalized reports to be distributed via the Internet as PDF or HTML pages via report bursting. Broadcast Agent Publisher is one of Business Objects' top-selling products.

2002 Acta, because of its ETL tools and packaged data marts, rebranded as Data Integrator and Rapid Marts. Within days of Business Objects' announcement of the acquisition, Informatica subsequently filed a lawsuit against Acta, claiming patent right infringement. The case is not yet settled. Despite the tensions between the two companies, Business Objects still views Informatica as an important partner and plans to continue interoperability (see Chapter 14).
---