Maya includes a variety of reference materials, which you can find under the Help menu in the upper-right corner of the interface. Here you'll find Maya's manual, learning movies and tutorials, links to the Maya Support Center and other Alias sites, and a Find Menu feature in case you forget where a particular function is located (Figure 1.51).
Figure 1.51. The Help menu puts all of Maya's reference and support materials in one place.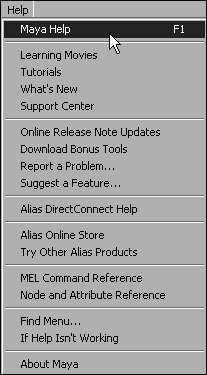 When you select Maya Help or Tutorials from the Help menu, a Web browser opens with the appropriate index loaded. You can browse through this index or enter a topic in the search box at the top of the window. You'll be given a list of links for both Information and Tutorial documents (Figure 1.52).
Figure 1.52. Maya Help's search feature displays multiple listings for information and tutorials on a specified topic.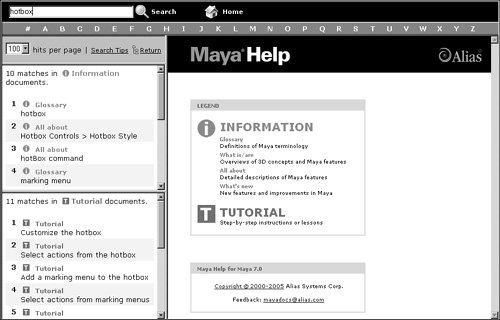 In addition to the primary Help menu, Maya includes context-based Help menus in many of its sub-windows. These menus provide quick access to the corresponding topics in Maya Help (Figure 1.53).
Figure 1.53. Many of Maya's windows have their own context-based Help menu.