After all the Templates, Groups, and Categories have been defined and associated, it is time to assign the individual resources to the Groups. Open the individual Groups and assign the proper resources who have the role-based responsibility defined by the Group.
What if a resource is both a Project Manager and a Resource Manager? These roles require different use permissions and data permissions within the system. Any resource can be assigned to multiple Groups and thus take on the permissions of all Groups to which the resource is a member. To modify user Groups, follow these steps:
| | |
| --- | --- |
| 1. | In the PWA window, select the Admin tab. |
| 2. | Select Manage Users and Groups. |
| 3. | Under Security Options select Groups. |
| 4. | Select the Group to be managed. |
| 5. | Click Modify Group. |
| 6. | When all selections are complete, click Save Changes. |
In the Users: Select the Users That Belong to This Group window, select the appropriate users, and click the Add button to add them to the Group. You can hold down the Ctrl key and click and drag down to select multiple users together, or you can hold down the Ctrl key and click to select multiple users and then add the collection.
Managing Users
Under the Manage Users and Groups selection, you have the opportunity to add, modify, and delete users (see Figure 8.13). Never modify a user's permissions in this window. To maintain control over the security model, it is always better to manage user permissions within the Template, Group, or Categories collection.
Figure 8.13. Assigning users to Groups.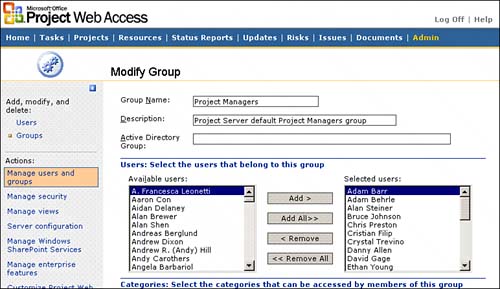 CAUTION
Although possible, managing each individual user's security at the individual user level is not advised.