Camtasia Studio 4: The Definitive Guide is designed to lead the user in an easy, stepwise manner throughout the entire video production process. I attempt to give you, the reader, a "best practices" set of procedures. I have sequenced the chapters in this book to follow the same general workflow of the application:
Record → Edit → Produce → Share
The individual chapters within these sections are presented in the order in which they appear in the program. For example, I discuss all editing functions available within Camtasia Studio in the order in which they appear on the application's Task List: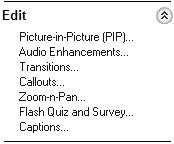 In practice, these can be tackled in any order, so feel free to skip around the chapters and sections to read up on whatever function you wish to implement at the time.
What You Can Expect to Find in Each Chapter
Every chapter starts off with a one- or two-paragraph introduction that explains the points being covered in that chapter. Any procedural clarifications are clearly marked (they're surrounded by a gray bounding box), laid out step-by-step, and generally preceded by an explanation as to why this feature or procedure might be useful. The chapters also draw to a close with a summary of the material covered. Beginning with Chapter 5 (where we actually begin using the application), each chapter will conclude with a handful of exercises to test your knowledge and give you some hands-on practice toward mastery of the concepts covered. The data files for these exercises are included on the CD-ROM.