The last process group in this knowledge area is to manage the project team. This process is illustrated by Figure 9.7. This process is concerned with more than just assigning work and telling the team members to go and do it. It involves monitoring the team members' performances, providing feedback, solving problems, managing change, and updating the staffing plan, issue logs, and lessons learned.
Figure 9.7. The manage project team process
Adapted from PMBOK Guide (p.215)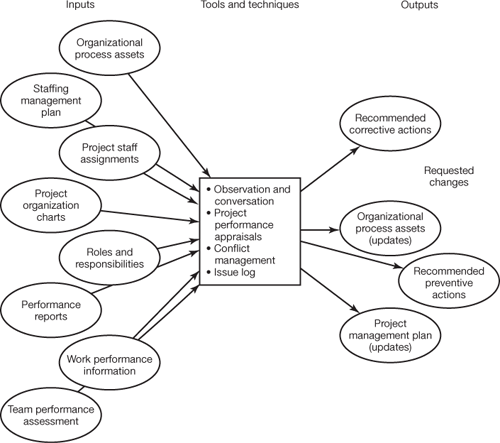 There are eight inputs to this process, all of which have been discussed in either this or previous chapters of the book. They are organizational process assets, project staff assignments, roles and responsibilities, project organization charts, the staffing management plan, team performance assessment, work performance information, and performance reports.
There are four tools and techniques for this process group. Observation and conversation is the first. The project manager uses this technique to understand the mood of the team and to influence them. For example, the project manager may look to see whether a sense of pride arises from meeting a difficult target, or look for interpersonal difficulties between team members. The second tool is project performance appraisals. This is the process by which team members are given feedback on their performance in the project. A popular style of feedback is '360 degree feedback' where an individual is given feedback by a wide range of people, including superiors, peers and direct reports.
The third technique is conflict management. Projects can be particularly stressful environments doing something new, often to a tight budget and deadline. As such, conflicts are likely to arise. It is up to the project manager to address conflict early. The PMI suggests that the project manager does so in private, using a direct and collaborative approach. Formal conflict resolution procedures should be used only when informal ones fail. However, it is advisable to distribute the formal procedures in outline before the start of the project to enable all team members to have the opportunity to understand them.
The fourth and final tool is the issue log. Issues arise throughout the life of a project and it is extremely advisable to keep a record of them. This enables the issues to be managed in a coordinated way. The information recorded about an issue may include the name of the issue, who it was raised by, the severity of the issue, such as high, medium or low, the issue owner, the status of the issue, and the course of action identified to resolve the issue.
There are five outputs from this process. They are requested changes, recommended corrective actions, recommended preventive actions, updates to the organizational process assets, and updates to the project management plan.