Overview of Planning the Migration
Before you migrate your organization from a Windows NT 4.0 domain to a new Windows Server 2003 Active Directory directory service domain, it is important to evaluate your existing domain controllers and member servers, plan your migration process, and design your new Windows Server 2003 domain. Planning for a migration to Windows Server 2003 involves the following steps:
Selecting a migration path

Assigning server roles

Designing the new Windows Server 2003 domain

Planning for test and recovery
To illustrate the migration process from Windows NT 4.0 to Windows Server 2003, Chapters 1 and 2 in this book describe how a fictitious manufacturing company, Fabrikam, Inc., plans and deploys Windows Server 2003 in its environment.
Fabrikam has 300 employees; approximately 270 of these employees work at the Seattle headquarters, and another 30 work in the field. Fabrikam plans to open an office in Boston, which will be part of the Seattle-based network, and relocate 20 employees to that location. The IT department for Fabrikam consists of an IT manager and a network and user support person.
The Fabrikam environment consists of the following:
One domain, named Fabricorp, which is running Windows NT 4.0.

Three servers: the PDC, which is running on new server hardware purchased six months ago, a BDC, and a member server, both running on older server hardware.

The WINS name resolution service on the internal network, and internal DNS as well as DNS services provided by an Internet Service Provider (ISP).

Remote Access Service, file service, and print services running on the Windows NT 4.0 "based servers.

Several different client operating systems, including Microsoft Windows 98, Windows 2000 Professional, and Windows XP.
The Fabrikam IT department established the following goals for their migration:
Upgrade the Windows NT 4.0 domain to a Windows Server 2003 Active Directory domain.

Consolidate services onto two servers, both running Windows Server 2003.

When the Boston office opens, create a new Active Directory site and place a new domain controller in Boston.
Figure 1.1 shows the current Windows NT 4.0 environment.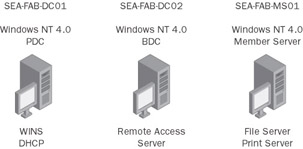 Figure 1.1:

Current Environment for Fabrikam
Server Roles
A server role is a dedicated function that a computer running one of the Windows Server operating systems provides remotely to network clients . Server roles can be combined on a single server. The server roles that are important to small and medium-sized organizations include:
Domain controller

DHCP and WINS

File and print

Remote access

Web
Terms and Definitions
Before beginning a server migration, it is important to be familiar with the following terminology.
Server
A computer running Windows NT 4.0 or a later Windows server operating system that is connected to a local area network (LAN). Each server is configured to perform one or more services for network clients.
Client
Any computer (workstation or server) that is connected to the LAN and that requests data, files, or account information from a server to complete a function.
Server role
A service performed by a server to support network client needs; for example, a server might have a role of file server or Web server. A server can execute one or several server roles.
Source server
A server from which a server role is migrated .
Target server
A server to which a server role is migrated.