Active Directory Replication Monitor is a GUI tool that is exclusively intended for monitoring and managing all kinds of replication in AD-based domains (Windows 2000 and Windows .NET domains). With this tool, you can monitor and register all replication events, force replication, start generating replication topology, view Global Catalog and bridgehead servers, and view trusts and replication metadata for an Active Directory object. The list of options could be continued. The tool has a simple and friendly user interface.
Preparation Steps and Analysis of Information
After the tool's start-up, you should create a list of monitored servers. This might be a tiresome operation in a large domain, but you only need to perform it once. When all necessary servers have been added to ReplMon, save the current configuration by clicking Save Monitored List As in the File menu. The next time the tool is running, choose the Open Script command and load the necessary configuration. A sample screen of the ReplMon's main window is shown in Fig. 11.3.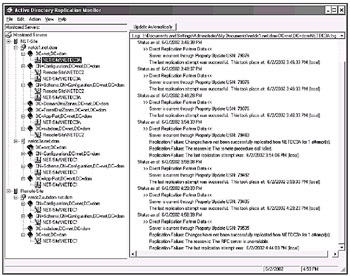 Figure 11.3: The main window of ReplMon, where you can browse the domain tree and see log files for selected domain partition and replication partner
ReplMon uses various icons to represent monitored servers and their replication partners, which helps an administrator to easily determine replication status. The icons are described in the table below.
Icon

Description

---

Directory partition that has replication problems

Bridgehead server

Global Catalog server

Direct replication partner that has encountered replication problems

Successfully replicated direct replication partner

Transitive replication partner

---
Let us consider what replication topology information we can obtain from the screenshot shown in Fig. 11.3:
The sample forest comprises two domains, two sites, and three domain controllers.

Each site has a Global Catalog server: NETDC1 DC receives a partial replica of the subdom.net.dom domain, whereas NETDC2 DC receives partial information about the DC=net,DC=dom naming context. In addition, both controllers are the bridgehead servers.

NETDC1 DC stores three application directory partitions: DC=DomainDnsZones, DC=net,DC=dom, DC=ForestDnsZones, DC=net,DC=dom, and DC=App-Part, DC=net, DC=dom. Only the last partition has a replica on NETDC3A DC.

NETDC2 DC stores the domain partition (DC=subdom,DC=net,DC=dom) that is not replicating to any other domain controllers.

Replication events for the selected pair of partners (NETDC1 and NETDC3A) and directory context (DC=net,DC=dom) are written into a file named netdc1.net.dom-DC=net,DC=dom-NETDC3A.log.

NETDC1 DC fails to replicate three directory contexts (domain, schema, and configuration) from NETDC3A DC. The log selected contains the reason of failure: "The RPC server is unavailable".

NETDC3A DC has a general problem with replication of the DC=net,DC=dom naming context and fails to replicate data from NETDC1 DC.
As you can see, ReplMon provides an administrator with thorough replication information.
Log Files
By default, ReplMon writes all Replication Status Logs to the My Documents folder of the currently logged on user. The log name combines the domain controller's DNS name, directory partition name and a replication partner down-level name.
You can assign a different location if you like. Click Options in the View menu, check the Default Path for Replication Status Logs box, and enter the necessary path. (To troubleshoot replication problems, you can also enable debug logging, allowing ReplMon to register every performed operation.)
ReplMon updates the Replication Status Logs at its start-up, and you can specify a time interval for automatic updating. If you do so, all replication activity for monitored servers will be registered in the logs.
Managing Replication
By using ReplMon, you can initiate any replication events possible for the selected domain controller. Most operations are started through the context menu of the selected DC. These operations are quite simple to learn, and all the tool's features are visible in the menu.
ReplMon has a very useful feature that allows you to view performance data usually available through the Performance snap-in. (See the "Monitoring Replication" section in Chapter 6, "Configuring and Troubleshooting AD-based Domains".) First, open the Performance snap-in and choose the counters you are interested in and write down their names. (You do not need the Performance snap-in itself!) To simplify a task, you can add the necessary counters to the Performance snap-in's window, click the Copy Properties button on the tool bar, and paste the text into a document. This text will contain all counter names (see the Path parameter) in addition to other information. Then start ReplMon, click Options on the View menu, and select the Status Logging tab (Fig. 11.4).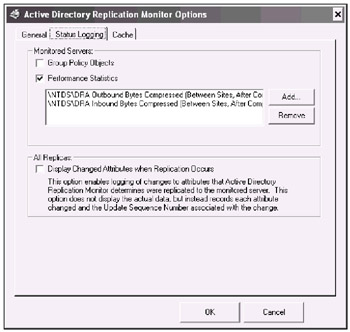 Figure 11.4: Configuring counters that will comprise current performance data
Check the Performance Statistics box, click Add, and enter a counter name (e.g., "\NTDS\DRA Inbound Bytes Compressed (Between Sites, After Compression) Since Boot"). Repeat this step if necessary. If you have already saved the counter names from the Performance snap-in into a text document, you can now easily copy-and-paste all names. Now you can select a DC and choose the Show Current Performance Data command from the context menu. You will see all current values of counters in the Performance Data window. The current data will be also written to the domain controller's logs.
Also, take note of the Group Policy Objects and Display Changed Attributes when Replication Occurs checkboxes on the Status Logging tab. The former checkbox will allow you to verify consistency of GPOs (AD and SysVol versions) with the Show Group Policy Object Status command. The latter checkbox turns on the logging of changed attributes: you will see their names as well as the names of corresponding directory objects in the logs. This will allow you to trace all changes in the directory more precisely.