Acrobat offers a number of automation functions to help make repetitive tasks proceed with greater speed and fewer mistakes. Acrobat automation tools include batch functions, page and document functions, and access to JavaScript.
Running Batch Sequences
Batch functions are sequences of processes or commands that are applied to multiple documents. Batch processing can relieve repetitive drudgery and save you time. Here is how to make Acrobat s batch sequences work for you:
To begin a batch processing session, it is a good idea to gather all the PDF documents on which you would like to perform a batch sequence and place them in one folder.

In Acrobat, choose Advanced > Batch Processing. The Batch Sequences dialog appears (Figure 14.1). This contains a default list of batch sequences that can be run.


Figure 14.1: Control your batch sequences from this dialog.

Select one of the batch sequences listed in the right pane. Here I have selected the Create Page Thumbnails batch sequence.

Click the Run Sequence button.

In the dialog that appears (Figure 14.2), check the list of all the commands that will be applied (in this case, one) to the files that you will select.


Figure 14.2: Confirm the run sequence.

Click OK.

In the Select Files To Process dialog (Figure 14.3), locate and select all the files you would like to include in this batch process. Use Shift+click to select a continuous series of files, and then click Select.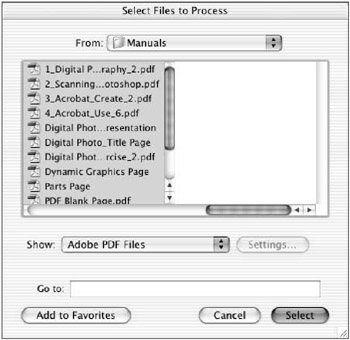 Figure 14.3:

Select the files to batch process.
The batch process will commence, showing a progress bar that tracks the batching .