The Southwestern CD Company distributes all types of entertainment CDs to both wholesalers and retail outlets large and small across North America. From its headquarters in Scottsdale, Arizona, the company ships on average 250,000 CDs a week. By purchasing directly from several manufacturers at optimal prices, the company has achieved revenues of approximately $51 million per annum. Its profit margin is based upon moving product effectively to its retailers to leverage the current entertainment fashion for both music and movies. Because it competes with other, larger distributors , Southwestern must offer better services and a more competitive price structure.
The CD distribution industry is based upon time to market and can rely heavily on technology to facilitate and provide a competitive advantage to the ordering process. CD products are purchased from manufacturers with a return policy that allows the retailers and, subsequently, the distributor to return unsold products. These market dynamics are reflected in the price, generally at the retail level, although the competitive positioning based on availability and amounts can be experienced at the distributor level.
An IT department of 15 people supports the company. Ten permanent personnel and five contract programmers staff the department. They do not have specific storage expertise, but they rely on their systems administrators to handle the operating system infrastructures that include the storage configurations. Their configuration is Microsoft-based with the exception of the database servers, which are UNIX machines running a popular relational database system. They have recently implemented a SAN to consolidate their databases and provide more responsive order-entry and sales-entry applications.
In conjunction with order-entry and sales-entry applications, the company runs an accounting application, a sales analysis application, and corporate e-mail, all from within its Metro Data Area (see Chapter 2). The recent implementation of the SAN has consolidated data from all of these applications within the available storage resources. All applications are now centrally accessible through the SAN.
The companys configuration, business applications, and client network is depicted in Figure C-1.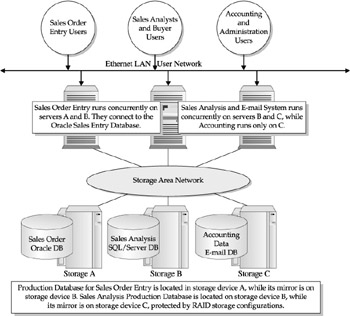 Figure C-1:

Southwestern CDs Metro Data Area