The current application model consists of all critical application systems being run on the mainframes. These are generally OLTP-type applications that provide support to all business functions within the headquarters and distribution centers. These online applications are supported by a heavy batch cycle of processing within a very restricted online and batch-processing model. The dealership network is a separate entity with restricted access to limited sets of inventory and sales data. The applications targeted for redesign and redeployment are some of the few that are operated from the UNIX open systems area. These are the current data warehouses for sales, warranty, service, and parts . They are currently loaded from the operational databases on the mainframe during a nightly batch cycle.
The new application requirements are to restructure each data warehouse and distribute its data into a smaller data mart supporting each of the individual lines of business (LOB). The demands require that the warranty and service data warehouses be consolidated into a larger integrated data warehouse, along with a smaller but integrated data mart for each LOB. In addition, the larger, but longer term requirements are to build a corporate data warehouse to provide key executives with real-time analysis on sales and issues affecting sales. Although this requirement is beyond the scope of this study, the impact will be affected by the storage infrastructure that is ultimately selected by the storage administration team.
Figure B-1 depicts the current systems configuration overview and data capacities as provided by the storage administrator.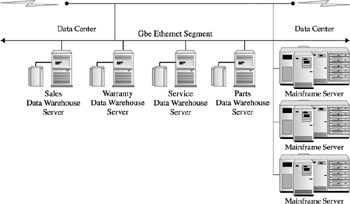 Figure B-1:

An overview of the current systems configuration
The challenge is to develop an infrastructure that will house the information and provide online access to the predefined analysis that will be run against the data. A common set of service levels has been agreed to in the requirements meetings with end users. However, these were approved by the application and database designers without the concurrence or involvement of the storage admin team, much less the technical support group . Consequently, the storage teams job is to develop the infrastructure that will support the predefined capacities, processing requirements, and online service levels. These are summarized in Figure B-2 and Table B-1.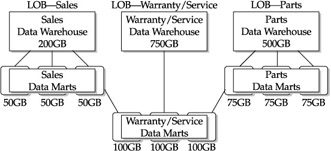 Figure B-2:

Data warehouse/data mart requirements
Table B-1:

Processing and Service-Level Requirements for Data Warehouse and Data Marts
Processing Req.
Sales DW/DM
War/Service DW/DM
Parts DW/DM
Age of Data << 24 hours
---

Storage Networks: The Complete Reference
ISBN: 0072224762
EAN: 2147483647
Year: 2003
Pages: 192
---