Chapter 27. Dividing a Page into Frames
If you've hit frame-based pages in your browsing, you know that they're cool. They make your display look like the control panel of a jet fighter "so many different, independent chunks of information stimulating your brain at one time. (If you're not sure what I mean, peek ahead to Figure 27.1.)
Figure 27.1. A frame-based page.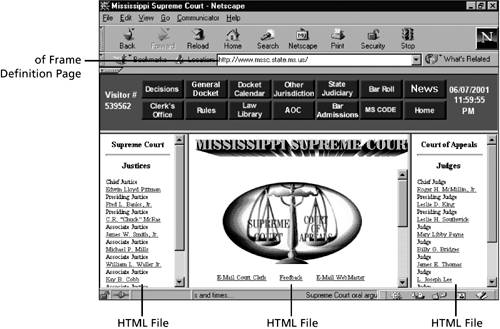 It's like the picture-in-picture feature on a new television, for people with eyes so info -hungry that just one program "or one page "at a time provides inadequate sensory input. Of course, frames also greatly expand the author's ability to offer a variety of page-navigation scenarios to visitors .

This chapter assumes that you have already installed Netscape Communicator 4.7 and its built-in Web-authoring program, Composer. If you have not, visit http://wp.netscape.com/download/archive.html and download Netscape Communicator version 4.7 for your system. (It's free.)
This chapter also assumes that you have downloaded a free trial of the HTML editor HTML Assistant Pro. You can download it from http://www.exit0.com.