Class Libraries
The class libraries provide a standard set of system services. These libraries of code will replace and provide the same kind of functions as the Win32 API and the Microsoft Foundation Classes (MFC) for C++ or Visual Basic. The following figure shows the conceptual framework for the .NET class libraries.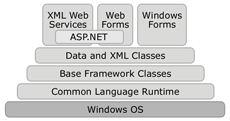 .NET class libraries
The Base classes provide standard functionality such as input/output, string manipulation, security management, network communications, thread management, text management, and other functions.
The Data classes support persistent data management and include SQL classes for manipulating persistent data stores through a standard SQL interface.
XML classes enable XML data manipulation, searching, and translation.
XML Web service classes support the development of lightweight distributed components, which will work even in the face of firewalls and network address translation (NAT) software.
Web Forms include classes that enable you to rapidly develop Web graphical user interface (GUI) applications.
Windows Forms support a set of classes that allow you to develop Windows-based GUI applications—facilitating drag-and-drop GUI development and providing a common, consistent, development interface across all languages supported by .NET Framework.