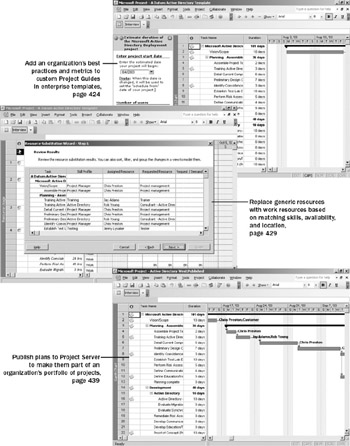 In this chapter you will learn to:
Understand the components of a Project Server–based enterprise project management solution.

Create a new project plan based on an enterprise template.

Assign work resources from an enterprise resource pool based on criteria such as location and availability.

Publish a plan to Project Server after developing it in Project Professional.
This chapter introduces some of the key differences between desktop project management (as you've practiced it in this book, probably using Project Standard) and Project Server–based enterprise project management. Project Server is the cornerstone of the Microsoft Office System Enterprise Project Management Solution (we'll refer to this as Project Server–based EPM). Enterprise project management is one of the more complex but potentially rewarding practices a large organization can adopt.
Although you might be the sole user of Project in your organization, the real "user" of enterprise project management is the entire organization, and thus the software toolset is correspondingly more complex than it is with Project running on a single computer. For this reason, fully addressing the details of enterprise project management is far beyond the scope of this book. However, we want to illustrate the key features and processes of Project Server–based EPM, so that you can start to determine whether it can serve a useful role in your organization. For most organizations we think the answer will be "Yes," but getting from initial interest in Project Server– based EPM to full implementation is a series of complex steps. We hope that this and the following chapters can help you formulate some ideas of how Project Server– based EPM can improve your organization's performance.
Chances are you currently don't have easy access to Project Server. In fact it takes quite a bit of software planning and deployment to get to the point where you can see the Project Server interface. For this reason, we don't require you to purchase and install Project Server to complete the exercises in this chapter. Instead, we'll play tour guide and walk you through the planning (this chapter), tracking (Chapter 22), and information management (Chapter 23) aspects of Project Server–based EPM.
Understanding the Key Pieces of Enterprise Project Management
If you've completed the previous chapters in this book, you have a good introduction to project management on the scale of a single project manager with projects that have dozens of resources working on hundreds of tasks. You may be practicing project management at this scale now. Indeed, with a resource pool and multi-project features such as master projects, a single project manager should be able to stay on top of several different projects in various stages of completion with Project Standard running on a single computer.
Now imagine dozens of project managers planning and tracking hundreds of projects, each with hundreds or even thousands of resources and tasks—all within a single organization. Project management at this scale requires a high degree of planning, coordination, and standardization. This is the realm of enterprise project management: a large organization planning, coordinating, and executing a large number of projects simultaneously.
Think about any past or current experiences you've had working on projects in a large organization, and try answering these questions:
Were the projects defined and scoped in a consistent way that would enable apples-to-apples comparisons?

Were resource assignments made with full knowledge of each resource's skills, location, and availability?

Did the executive leadership of the organization have a clear picture of the status of each project?
If your answer to these questions is "No," the organization was probably not practicing enterprise project management. There is no question that many large organizations can gain great benefits by adopting enterprise project management. However, this is no easy task, or they would have implemented EPM already. Succeeding with enterprise project management requires a strong willingness from the leadership of the organization (executive sponsorship), a well-trained group of administrators, project and resource managers, and a software infrastructure capable of enabling it.
The Project Server–based enterprise project management toolset consists of the following:
Project Professional 2003

Project Web Access, the browser-based interface to Project Server

Project Server 2003, running on Windows Server 2000 or later

SQL Server 2000, the database for enterprise project and resource data
In addition, to enable document, issue, and risk tracking (described in Chapter 23, "Managing Risks, Issues, and Documents with Project Server"), Project Server can integrate with Windows SharePoint Services.
Deploying a complete Project Server–based EPM system requires considerable research, planning, and coordination within an organization that is well beyond the scope of this book. However, we want to give you a chance to see what Project Server–based enterprise project management looks like and determine whether it could play a beneficial role in your organization. To illustrate the capabilities of Project Server, we'll use a sample database that's included with Project Server. If your organization decides to move to a Project Server–based enterprise project management solution, we strongly recommend that you also use this sample database to get a closer look at enterprise project management. In fact, here is a list of key resources to help you with your evaluation, planning, and deployment of a Project Server– based enterprise project management solution:
Review all of the relevant material on the main Project marketing page, http://www.microsoft.com/office/project.

Review the Project Server Resource Kit published on TechNet: http://www.microsoft.com/technet.

Complete a pre-deployment analysis contained in the Enterprise Implementation Framework (EIF). Search for it on http://www.microsoft.com/technet.

Once your organization commits to a pilot program with Project Server–based EPM, install the sample database for Project Server and complete the two "Day in the Life of" evaluation guides included with Project Server. To view them from the Project Server installation CD, navigate to the prjsvr\support\sample\ 1033 folder. The files are named sampepm.htm (project management focused) and samprm.htm (resource management focused).
If you are in an organization that is relatively new to the project management discipline or lacks an experienced internal Information Technology (IT) group, consider working through the Project Server deployment process with a recognized Project Partner.