Leading sales organizations know that it's important to have a finger on the pulse of what customers want and value. They do this through satisfaction and loyalty studies, customer service calls, and merely by having salespeople in the field probing for customers' preferences, motivations, and future buying patterns. This information is critical to developing strategies for improving the customer experience and establishing longterm relationships—the goal of all sales organizations in today's competitive marketplace.
This book has primarily been about the efforts of organizations to build strategies that win sales and the data from the research presented throughout has been from the seller's perspective. Following the completion of our in-depth interviews, we conducted a survey study that focused on buying attitudes and practices from the perspective of customers—in this case, buyers of information technology (IT) products and services. We focused our investigation on buyers from a very large and important segment of the economy—small and medium-sized businesses—and across all industries that purchase IT products and services. Focusing on this industry segment for the survey study provided a good comparison with the organizations we interviewed for the larger study because many of those organizations deal with IT products and services in one way or another. And because most leading sales organizations we surveyed are engaged in primarily business-to-business (B2B) transactions, examining business buyers allows us to make some interesting comparisons between the two studies. Even though this was a B2B study, there are some interesting lessons here for B2C salespeople as well.
The survey study asked buyers to discuss what is important to them when buying technology from vendors and their salespeople, what they look for and value in vendors, how they purchase from a behavioral standpoint—their buying process— and how they feel about buying through alternative channels. Buyers were then asked to think about what they value in salespeople, what characteristics of salespeople influence their decision to buy or not to buy, and how they would describe their own salespeople. These findings shed light on buyers' attitudes and buying practices and will provide sales organizations a valuable perspective when developing strategies to win sales.
Why Do Customers Buy?
Leading sales organizations know that customers will buy when they require a solution to a business challenge or seek to improve the effectiveness or efficiency in the way they conduct their business. Understanding precisely why customers buy and what their needs are is critical information for salespeople because their chances of making a sale are improved if their product or service solution provides the best fit for the client's need.
Customers of IT from small and medium-sized businesses were asked to select the three most important motivating factors for buying new technology. As Figure 9.1 shows, not surprisingly, customers most often buy new technology to "increase productivity"—that is, to produce more at lower costs. Slightly more than half buy new technology to "cut costs" related to operations, and nearly half said they buy new technology to "better serve customers." The data validate the belief among sales organizations that customers buy products and services most often to increase the value they can offer to their customers at a lower cost to them. This emphasizes the importance of the business issue selling model indicating that salespeople need to understand what impacts their customers' productivity and what their customers need to better serve their marketplace.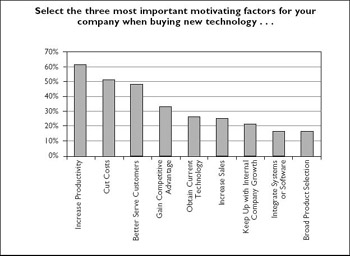 Figure 9.1: Motivating Factors for Buying New Technology
Just about one-quarter of all buyers said they buy to "obtain current technology," 25 percent said they buy to "increase sales," and just 21 percent buy new technology to "keep up with internal company growth." Clearly, this is valuable information to sales organizations that must focus their sales efforts on the real needs of customers. Moreover, accounting for customers' pain points and buying triggers in the customer relationship process will guide salespeople in the right direction when they interact with their customers.
In high-performing sales organizations, salespeople typically spend a considerable amount of time researching their prospects' needs before making sales calls, and their customer resource management (CRM) or sales force automation (SFA) systems provide important tools for better managing (and documenting) the needs of their customers. These findings suggest that customers' most important needs are to be more efficient and effective in serving their own customers. Successful sales organizations know this and they build it in to their sales strategies.
Who Do Customers Buy From and How?
One important aspect of understanding customers' buying behaviors is being able to identify customers' channel preferences. What is the propensity of customers to purchase from a salesperson versus a Web site? When and why do customers go directly through a vendor as opposed to a reseller, distributor, or other channel partner?
We asked IT buyers how they most often buy various technologies and what channels they are most likely to purchase through. According to our survey, nearly half of all buyers purchased their IT products or services through a salesperson, 40 percent purchased via online, and 11 percent bought through other channels. The salesperson today is competing then for half of all of customers' purchases. As that proportion continues to decline, organizations will need to ensure that their salespeople are relevant for their customers. Later in the chapter we will explore more closely what it means to be relevant and valuable from the customers' perspective.
Figure 9.2 breaks down the most frequent purchases by channels for seven IT product/service areas. Except for PCs and laptops, which are generally commodities, technology products and services are purchased most often through a salesperson because they are typically more complex and may involve significant customization and unique customer requirements. Of those technologies, customers are most likely to buy telecommunications voice/data services through salespeople (70 percent) with only 24 percent buying through a Web site. This is followed by new telecommunications products and services and software. Slightly more than half of purchases involving PCs/ laptops and servers are made on the Web.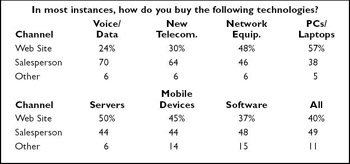 Figure 9.2: Breakdown of IT Purchases by Channel
Buying online is no longer solely a B2C transaction as business buyers are seeing the benefits of purchasing online. A study conducted by Forrester Research (2003) examined the usage of e-commerce by buyers from four industries (business and consumer services, manufacturing, retail, and financial services). More than half of buyers from the services industry said they purchase through e-commerce channels, followed by 46 percent of manufacturers, 38 percent of retail, and 33 percent of financial services.
In addition to their own sales channels, many organizations now sell through third-party channels, presenting even more competition for the sales force. Our study further investigated third-party channel preferences among customers for a wide variety of IT products and services. When asked what sales channel buyers are most likely to purchase through, exactly half prefer to buy IT directly from the vendor or service provider. Only about 15 percent buy through a vendor's channel partner, and 13 percent most often purchase IT through resellers. IT customers from small and medium-sized businesses buy technology from a retail store around 10 percent of the time and from a third-party consultant 4 percent of the time. Sales organizations that understand their customers' preferences are able to leverage high-value channels and allocate the appropriate resources according to channel usage. Because all customers will not prefer the same channel for all products, accurately identifying the mix of channel usage by buyer preference and product type, although tricky, is important for ensuring that the right resources and skills are dedicated to the right places.
Hewlett Packard is one such company that understands channel selection and preference among its customers. They know that if customers are buying desktops and notebooks they will likely prefer call center support with easy fulfillment. But there are also those who look to HP to have a consultative role in their business and they will go through the direct sales force. HP also knows which customers and what types of customers will typically purchase through value-added resellers (VARs) so that they can manage that channel appropriately.
Adapting to Customer Changes at TD Waterhouse
When the stock market's high-flying glory days of the 1990s abruptly ended, individual investors changed the way they bought and sold equities. During that stock market bubble, many consumers—sensing they couldn't lose—conducted their own research and did their own buying and selling of stocks. Many quit their jobs and became day traders. Today, however, "customers are more cautious in their trading and they are looking for more conservative investments and better advice," said one TD Waterhouse manager. Customers are generally more sophisticated and intelligent when it comes to equity research, so they expect their financial service providers to make the research available but also to be there when they need help or advice.
TD Waterhouse recognizes that customers are now looking for more services, more advice, and better customer service, whether they want to trade themselves or rely on the company's expert brokers. More demanding customers mean the company's associates must raise their level of professionalism and knowledge and be able to more quickly recognize the needs of customers. The company has conducted training to ensure that their brokers are meeting customers' needs where they want to conduct their transactions—whether it is online or with a real-life broker.
Customers' Buying Practices
Based on marketplace trends we identified through our interviews with the world's leading sales organizations, we also developed a list of behaviors and attitudes to validate such trends with customers of IT products and services in the small and medium-sized business market. Buyers were asked to rate a series of statements based on their organization's buying practices. The results suggest that although price is important, in general, customers really want a supplier who is easy to do business with—one who provides good service and after-sales support.
Figure 9.3 shows the percent of buyers who agree or strongly agree with each buying practice. Next to the column with the percentages is a column containing the mean score for each practice based on a five-point scale. Although a majority of buyers agree that "price is one of the most important factors," more buyers agree or strongly agree that they "will pay a premium for excellent after-sales service." This suggests that price matters, but it's secondary to service after the sale.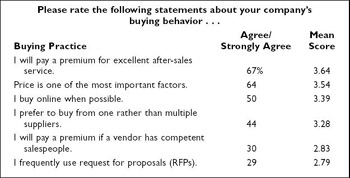 Figure 9.3: Customers' Buying Practices
Half of all of those surveyed "buy online when possible," again reinforcing accounts that more customers today have a propensity to purchase through that channel. Just 44 percent agree or strongly agree with the statement that they "prefer to buy from one rather than multiple suppliers." This seems to validate several observations made during our interviews that many customers are moving toward outsourcing to more rather than fewer vendors.
Customers also were asked to rate their agreement with the statement "I will pay a premium if a vendor has competent salespeople." It appears that price is more important than having a good salesperson as only 30 percent of buyers agree or strongly agree with that statement. The mean of 2.83 suggests that respondents were even less than neutral on this practice, scoring more disagrees and strongly disagrees. In the end, we can conclude from the data that while price is very important, even more important than a "competent salesperson," it is not as critical as "excellent after-sales service." These findings reinforce the overarching theme that customers want suppliers who are easy to do business with.
Finally, only 29 percent agree or strongly agree that they "frequently use request for proposals (RFPs)." This is not surprising given the size of the businesses that participated in the survey. Generally speaking, larger organizations are more likely to utilize RFPs than small and medium-sized organizations because formal purchasing policies and budget and approval processes are more common among larger organizations.
What Customers Value in Suppliers
In addition to understanding how customers buy, it is also important for organizations to identify what they can do to increase value for the customer and, consequently, what the sales force should focus on when interacting with customers.
IT buyers were asked to rate the importance of vendor characteristics in their decision to buy from a supplier. Once again, service rises to the top. As Figure 9.4 shows, three-quarters felt that "service reputation" is a very or extremely important characteristic when selecting a vendor, followed by "product reputation" and "financial stability." Although salespeople do not directly control these factors, especially the company's financial health, indirectly they can influence service and product reputation through each and every interaction they have with a client.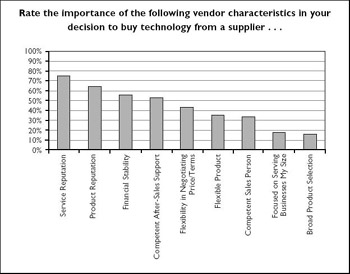 Figure 9.4: Vendor Characteristics Valued by Customers
The importance of service is further reinforced by the fact that more buyers said that "competent after-sales support" is more important than "flexibility in negotiating price/term" and "flexible product," and far more important than a "competent salesperson."
Clearly, sales competency, product selection, and flexibility in negotiating terms were less important buying triggers than service, support, and product reputation. These findings demonstrate how important it is that salespeople sell customers on their company's ability to service them and the importance of establishing confidence in their brand throughout the marketplace. Instead of guessing, successful sales organizations can learn from their customers about what attributes and characteristics they value most so they can develop sales strategies that focus on improving the critical factors that have the greatest influence on the decision to buy. On an individual level, salespeople must identify ways in which they can impact these more organizational characteristics for the client.
Customers Rely on Salespeople
Salespeople hope that customers depend on them to solve their business problems so that they can become a Trusted Advisor (see Chapter 5), relied on for their consultative, value-added services. The belief that this type of interaction will ultimately strengthen relationships that translate into long-term customers for the sales organization is shared by many of the leading organizations we interviewed. To get the customer's perspective, we asked buyers to select the information topics they relied on their salesperson for as their primary source of information.
As Figure 9.5 shows, customers reported that they did not frequently depend on their salesperson in "identifying strategic IT opportunities for me" (28 percent). Rather, customers said they most relied on their salesperson for "obtaining the best price" (66 percent) and "understanding product features/ benefits" (65 percent). Less than a quarter of buyers said they relied on their salesperson when it came to "diagnosing my IT problems" (24 percent).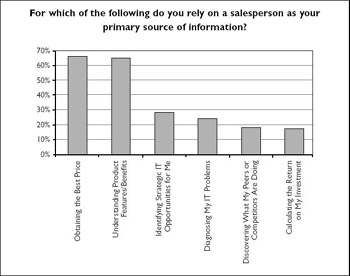 Figure 9.5: Salesperson's Role as a Trusted Advisor
Finally, the leading sales organizations we interviewed said that many of their customers are increasingly demanding that salespeople be able to demonstrate a return on their investment. The survey study, in contrast, did not bear that out as only 17 percent said they relied on their salesperson for "calculating the return on my investment." One reason for this may be that ROI might not be as important of an issue for IT buyers as other product or service categories.
The results suggest that sales organizations must ensure that their strategies reinforce product knowledge and expertise among the sales force, along with negotiation skills in the sales and customer relationship process. As well, identifying strategic opportunities and diagnosing problems for the client—that is, selling consultatively—may be important for some customers but not others. Sales organizations must know which is which so that they are not trying to be a trusted business advisor when the customer only wants the best price, or vice versa.
Characteristics of Salespeople That Influence Buying Decisions
Purchasing decisions are influenced to one degree or another by a customer's interactions with their salesperson. Leading sales organizations understand that deals can be made or lost as a result of how their salespeople interact with customers, so they develop carefully planned account management strategies and customer relationship processes that are predicated on the company's perception of what customers value. However, organizations are not always successful in identifying what has the greatest influence on buying decisions. As sales organizations develop strategies for creating lasting relationships with customers and adding value to each interaction, it is important to first understand, on the salesperson-customer level, the key factors of that relationship affecting customers' decisions to buy.
A common belief among sales organizations, as one sales manager described, is that "customers value relationships, they expect their salesperson to understand their business, and they expect honesty." We questioned customers about what they actually value in their salesperson and what behaviors of their salesperson influence their decision to buy or not to buy.
Customers were asked to list the three most important attributes of a salesperson that influenced their decision to purchase from that salesperson. The characteristics evaluated in the study were phrased in either a negative or a positive way, depending on whether it was a factor deterring or facilitating a purchase. The first column in Figure 9.6 ranks negative characteristics of salespeople by the percentage of buyers saying that these characteristics turn them off from buying. These are the characteristics that customers said would kill a deal for them.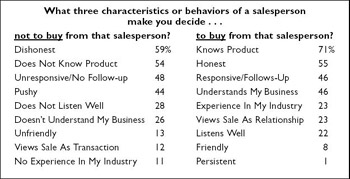 Figure 9.6: Salesperson Characteristics Affecting Customer Decision to Purchase
According to the survey, customers said they are most likely to not buy from a salesperson who is "dishonest" (59 percent), who "doesn't know product" (54 percent), or who is "unresponsive/doesn't follow up" (48 percent). Forty-four percent said that "pushy" salespeople will kill the deal for them, followed by "doesn't listen well" (28 percent)—note the significant dropoff placed on the importance of characteristics leading buyers to not purchase.
The top three characteristics customers said would make them not buy are the same three mentioned as those most influencing customers to buy, although they're in a different order of importance. Nearly the same percentage of buyers said "responsive/follows up" and "honest" were characteristics that were equally as important for winning or losing a deal. One significant difference in the top three, however, is product knowledge. While 54 percent said that a salesperson that "doesn't know product" would make them decide not to buy, 71 percent said that "knows product" would make them decide to buy. Clearly, product knowledge is more important for influencing customers to buy than making them decide not to buy—that is, a salesperson with product knowledge is more likely to win a deal than the lack of product knowledge is likely to lose a deal.
As mentioned, many salespeople we interviewed believed that to keep customers they needed to be friendly, create relationships, and understand the customer's business. Customers, however, rated these characteristics as much less important factors in their decision to not buy. Only 13 percent said they would not buy because their salesperson is "unfriendly," 12 percent said that salespeople viewing the "sale as transaction" would turn them off from buying, and 11 percent would not buy from a salesperson who had "no experience in my industry." These characteristics are not likely to kill a deal, but how important are they for winning a deal?
Having "no experience in my industry" was twice as important for making customers decide to buy than not to buy, and "views sale as relationship" was also more important for motivating decisions to buy than not to buy. However, being "friendly" (8 percent) had little influence on decisions to buy or not to buy. This supports the notion that professional relationships based on expertise and trust are more valuable to customers than personal relationships based on friendliness.
In addition to "experience in my industry" and the manner in which the salesperson views sales interactions, "understands my business" was also more important for winning deals than losing deals. Nearly half said that a salesperson who "understands my business" would lead them to buy, while just about one in four said that "doesn't understand my business" would make them not buy.
Finally, a salesperson who "doesn't listen well" is more likely to turn off a buyer than a salesperson who "listens well" is likely to win a sale. "Pushy" (44 percent) is an important factor for losing deals, but someone who is seen as "persistent" (1 percent) matters little for making a decision to buy.
Understanding what to do and what not to do can make or break a sale. At the least, salespeople need to be honest, know their products, and be responsive in dealing with the customer. After that, they should make sure they understand their customer's business but shouldn't be pushy. While honesty and knowledge are critical, customers said that how their salesperson "views sale as relationship" and how "friendly" they are have far less influence on their buying decision.
How Customers View Their Salesperson
As previously mentioned, customers of telecommunications services and products were most likely to purchase from a salesperson compared with other channels. Because buyers of telecom were more likely to interact with a salesperson, we asked them to describe their salesperson using the same descriptors from the previous question regarding important influences on buying decisions. Table 9.7 ranks characteristics of salespeople by the percentage of customers who mentioned those characteristics when describing their salesperson.
Customers generally had good things to say about their salesperson, mentioning positive characteristics more often than negative ones. Overall, customers said that their salesperson possessed the same characteristics that were also most important in influencing their decision to buy (discussed above). Customers most often said that their salesperson "knows the product," is "responsive," and is "honest." Thirty-seven percent said their salesperson was "friendly," although that mattered little in their decision to buy or not to buy as discussed above. More than a third (35 percent) said that their salesperson "listens well," again, however, not especially important for driving a decision to buy.
If sales organizations are implementing strategies to improve "relationship selling" as opposed to selling in transactional terms, they are doing a pretty good job of it in the telecommunications services and products sector. Approximately 27 percent of IT buyers said that their salesperson for telecommunications products and services "views sale as relationship," while only 8 percent said their salesperson "views sale as transaction." This shows that customers will have different expectations of different types of vendors and salespeople. Those who prefer to buy through a simple transaction, at more of an arm's length, will likely have lower expectations of their vendor than those customers requiring consultation and expert advice for making a purchase.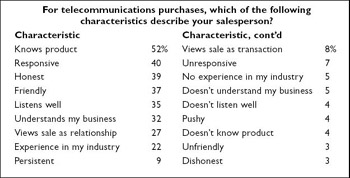 Figure 9.7: Salesperson Characteristics as Ranked by Telecommunications Customers