Chapters: They're Not Just For Books Anymore…
Big studio movie DVDs have nifty chapter menus, which allow you to go right to the scene you want. Alas, until recently if you create such a thing on a Mac, you needed much more expensive software than the dynamic duo of iMovie and iDVD. Fortunately, not only do iDVD 3 and iMovie 3 let you create chapters in DVD movies, they make it almost completely automatic.
| | |
| --- | --- |
| | If you're wondering why I'm covering chapters here, well they're really nothing more than buttons on menus… which is exactly what this chapter is about. Onward. |
OK. You're going to laugh when you see how drop-dead simple it is to add a scene selection menu with chapter buttons to your iDVD project.
Start with any iMovie project. Click the iDVD button so the iDVD Chapter Markers pane is displayed on the right, as shown in Figure 6.7.
Figure 6.7. This is about all it takes to have scene selection in your DVD.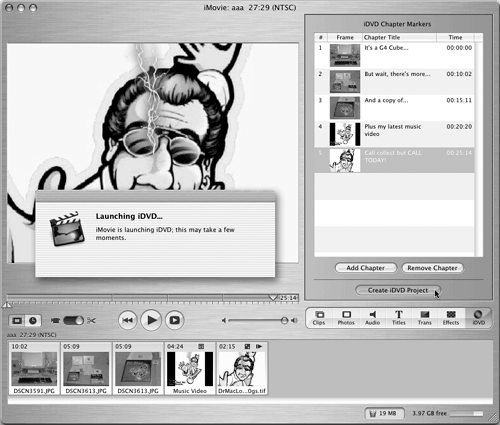 Now, to add a chapter marker, drag the playhead to where you want the chapter to start, and click the Add Chapter button. Repeat this process until you've included as many chapters as you want and then click the Create iDVD Project button.
A window appears informing you that iDVD is being launched (unless it's already running, in which case you won't see this little window), and in a few moments you have a new project with two pre-made menus.
The first has two buttons: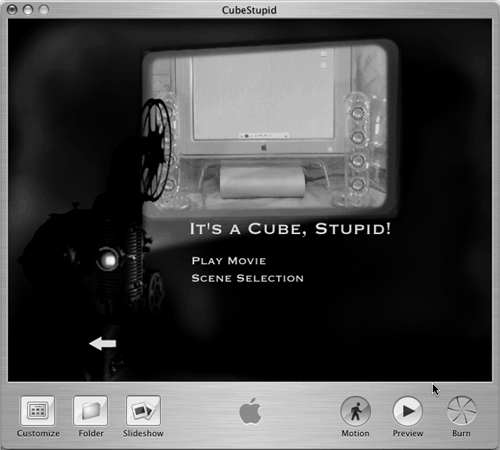 The second (and subsequent menus if your movie has more than six chapters; as you recall, you can only have six buttons on any menu in iDVD) is the actual scene selection menu, with the chapters you created in iMovie:
You don't even have to use iMovie. If you've created chapter markers in your iMovie project and saved it, you can import the final QuickTime movie from within iDVD and the chapter markers you created in iMovie will be recognized in iDVD. Sweet!
| | |
| --- | --- |
| | You can change the way iDVD handles movies with chapters in iDVD Preferences' Movies pane. |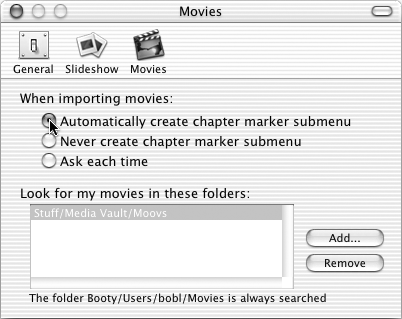 And if you use Final Cut Pro (FCP) or Final Cut Express (FCE), you can easily participate in the chapter menu extravaganza by creating chapter markers in your FCP or FCE project. It's just as easy as in iMovie, but not nearly as easy to figure out. Here's what to do:
Drag the playhead to where you want the chapter to start, then press the M key twice (once to mark the spot, then again to bring up the Edit Marker dialog). Click the Add Chapter Marker and you're finished. When you import the movie to iDVD, your chapter markers are imported as well.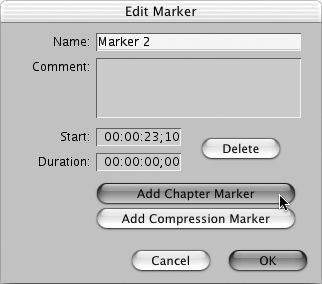 That's really all there is to creating a scene selection menu. As you can see, you can change the way any button or menu looks, and the scene selection menu and its buttons are… all together now… nothing more than menus and buttons.
Now step back and have a look at your entire project. The only thing missing are sound clips, but you can examine the look of your project by clicking the Preview button. Be sure to turn on motion with the Motion button before you do. If you're satisfied with what you see, it's time to move on to the next step: adding sound to slideshows and menus.