by Glenn Thomas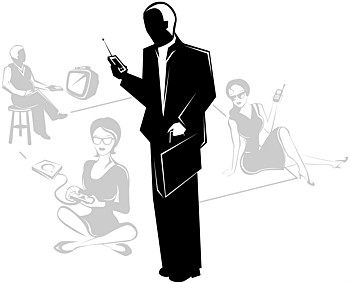 TOPICS COVERED IN THIS CHAPTER:
Planning, organizing, and optimizing for motion

Repurposing content

Animation and motion styles for devices

The realities of developing for devices

Handling file sizes and connectivity issues

Developing for different displays

Keys to motion graphics

Keys to character animations
One of the great features of Macromedia Flash is its ability to develop "create once, change it around a bit, and play it anywhere" media content. Motion graphics and animation created for the web can also be shown on CD-ROMs, DVDs, broadcast television, interactive television, and now handhelds and embedded devices.
Using Flash to create animation and motion graphics provides high-quality entertainment and motion design for handheld devices that can't be created with any other technology. Flash's vectors allow the development of movies with small file sizes and stunning production qualities to play back within the limitations of a broad range of devices (see Figure 6.1).
Figure 6.1. Great entertainment for multiple devices can be created in Flash.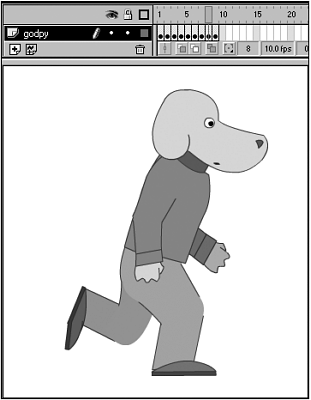 With the advent of Flash for handhelds and embedded devices, there's a chance to develop for almost every major platform in the digital world. This great opportunity requires designers and animators to understand how to create movies for deployment on multiple platforms (see Figure 6.2). Although developers can easily create content for multiple devices, it does take planning, an understanding of what device limitations will do to content files, and a balancing act between the limitations of file size and quality to create great content.
Figure 6.2. Cartoons and motion graphics with distinctive styles can play back on a variety of devices for many audiences.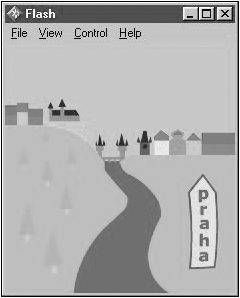 In this chapter, we'll explore how to create motion graphics and character animation for devices by following the creation of a short cartoon based on a previously drawn comic strip called "The Prague Years." The project allows us to go step-by-step through the process of creating and optimizing a movie specifically for device playback that can also be shown on other platforms.
Planning, Organization, and Optimization. How to think about and set up a motion graphics or animation project for embedded devices.

Device and Platform Realities. The possibilities and limitations of both the devices and platforms that Flash will play on at this time and in the future.

Keys to Motion Graphics. The step-by-step way to create motion graphics that play well on devices.

Keys to Character Animation. The step-by-step method for creating character animation that plays well on devices.