As we have seen in Chapter 5, after the author has saved the page, the page status changes to Saved. The page content is now persisted in the CMS database, and the page is available for additional editing if required. When the page has the Saved status, the page is not available on the live site but will be displayed in Edit mode.
The page also becomes locked by its owner the user who has saved the page. This ensures that multiple authors cannot edit the same page before it has been approved by the editor.
The publishing workflow process is started by submitting the saved page for editor approval. The page is submitted by clicking the Submit option in the Web Author console. After the page has been submitted, it enters the workflow and its status changes to WaitingforEditorApproval (Figure 6-2).
Figure 6-2. Submitted sample page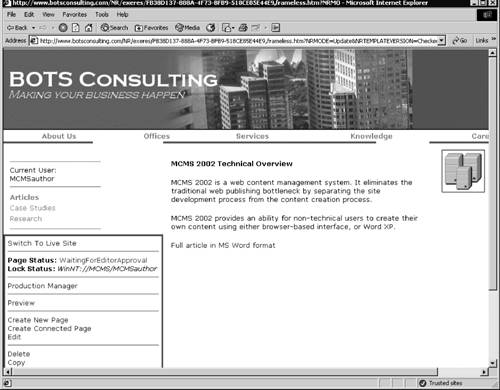 The page can be previewed in Edit mode, but it is not visible on the live site.
NOTE: When the page content and the page properties are submitted, or posted, the combination is referred to in CMS as a posting. Throughout the book, we will be referring to pages and postings interchangeably.