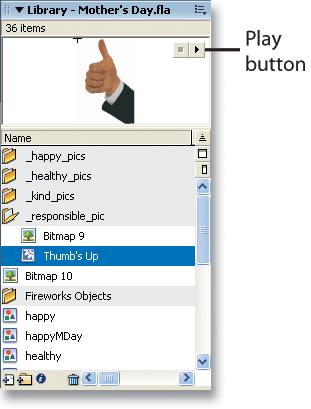 Before choosing an animating symbol to place on your Stage, why not take a peek at what it will look like? Select any symbol in your Library that has more than one frame on its Timeline (graphic, movie clip, or button), and if the symbol has animation in it, the preview at the top of the Library will display a miniature play and stop button for you. Pressing the play button will play a tiny preview of the animation in that symbol once.
I often use this preview when I plain forget what a symbol has in it. I'd much rather see a tiny quick preview than have to go to the Timeline to see what's up.
This works for imported sounds as well, but I'm sorry to say that it doesn't work for imported video. So don't freak out when you select a video clip and there's no playback control in the preview area. That's just the way it is.