The Contacts Window is where Notes displays the contacts you have entered into your address book. From here you can add contacts, edit contacts, delete contacts, create new meetings and memos, as well as look at the various directories you have access to.
Click on the Address Book Bookmark. The Contact list will open.
Let's familiarize ourselves with the Contacts window.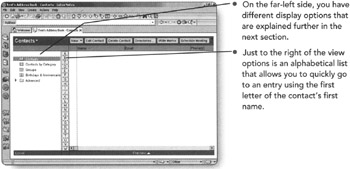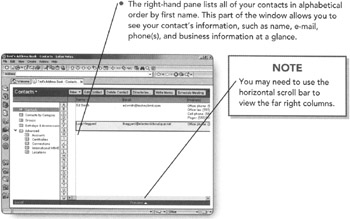 The buttons at the top vary between views. Here are their basic functions.
New. Gives you the option of creating new entries in your Contact list. The new entries include Contact, Group, Account, Location, Server Certifier, Server Connection, and International MIME Settings. You will mostly work with the first two options— Contact and Group.

Edit Contact. Allows you to update the information for the contact that you have highlighted.

Delete Contact. Deletes the contact that is highlighted.

Directories. A quick way to open your company's Name and Address Book on the server.

Write Memo. Creates a new memo with the highlighted contact as the recipient.

Schedule Meeting. Creates a new meeting notice with the highlighted contact as an invitee.

Tools. Gives you miscellaneous options for working with your contacts, such as copying the highlighted contact into a new contact entry. You can also open the Web site that is listed for the highlighted contact. The preferences are also included under the Tools button.