Note
As you probably realize, there are some costs (in time and trouble if nothing else) in maintaining a VPN server. This is probably not something that is worth doing unless you have a number of remote users who need to access your home network securely on a regular basis.
Any computer that connects to the Internet, or that connects to a network that connects to the Internet, should run some programs for general protection.
Antivirus Programs
The most important category of program for protection is antivirus. Antivirus programs stop viruses from attacking your system and help you recover if you are attacked by a virus.
The leading antivirus products are VirusScan from McAfee, http://www.mcafee.com, and Norton AntiVirus from Symantec, http://www.symantec.com.
TIP
In addition to the antivirus and personal firewall software mentioned in this section, you should consider using software to help protect you from spyware, adware, and other forms of malicious intrusion. See Chapter 4, "Software That Makes the Most of Mobile Computing" for more information.
The two important things you must do with your antivirus software (or else it doesn't fully protect you) are as follows:
Keep your virus definitions up-to-date

Scan your computer for viruses regularly
The good news is that you can set most modern antivirus programs up to perform these functions automaticallyso that you don't have to remember to do them.
Automatically Updating Virus Definitions
For example, with Symantec's Norton AntiVirus program, keeping program code and virus definitions up-to-date is the job of a portion of Norton AntiVirus called LiveUpdate. To set LiveUpdate to automatically check for new virus definitions, click Options in Norton AntiVirus. Next, Choose LiveUpdate. The Automatic LiveUpdate window will open.
Note
Because new viruses come on the scene so quickly, it is vitally important to keep your virus definitions up-to-date. If your antivirus program comes with an automatic update feature, you should make sure that this is turned on and operational. Otherwise, make sure to go online and update your virus definitions frequently. An antivirus program with out-of-date definitions is almost as bad as no protection at all.
In the Automatic Live Update window, shown in Figure 17.8, check the Enable Automatic LiveUpdate box. Next, choose the Apply Updates Without Interrupting Me option. Click OK. Your virus definitions will now be updated automatically.
Figure 17.8. You can automatically keep your virus definitions up-to-date.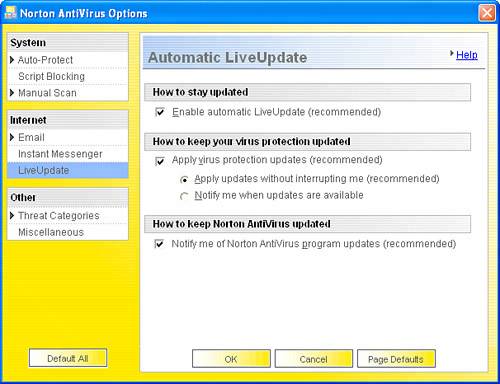 Automatically Scanning Your Computer for Viruses
To set up automatic scheduled scanning of your computer for viruses, make sure that the main Norton AntiVirus window is open. Next, click Scan for Viruses to open the Scan for Viruses pane (shown in Figure 17.9).
Figure 17.9. You can automatically scan your computer for viruses.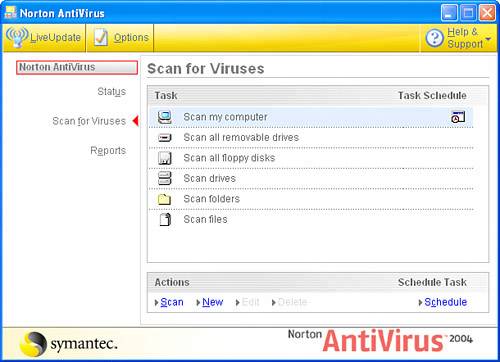 In the Scan for Viruses pane, you can click on a tasksuch as Scan my computer or Scan my drivesto perform an antivirus scan. Sometimes, if you have reason to think you might have been infected, it's a good idea to do this. However, to implement overall protection, you should click in the Task Schedule column to the right of the task you want to schedule.
For example, to engage automatic antivirus scanning of your computer, click in the Task Schedule column to the right of Scan My Computer.
Clicking in the Task Schedule column opens the Schedule tab, shown in Figure 17.10.
Figure 17.10. The Schedule tab is used to engage automatic antivirus scanning.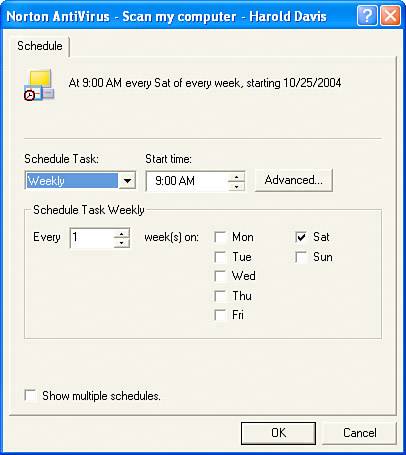 Within the Schedule tab, select a period for automatic scanning, such as once a week, and a time for scanning during the period (such as Saturday morning, shown in Figure 17.10).
TIP
It's best to schedule scans for a time when you're not likely to be making heavy use of the computer because antivirus scanning of your whole computer does take a while and will slow the computer down.
Click OK. It's that easyyou are now automatically protected with Norton AntiVirus, which updates your virus definition files without your intervention and scans your full computer once a week. By the way, if your computer is off when it is set to do a scan, don't worrythe next time you turn it on, you'll be told about the missed event and asked whether you want to start the scan.
Personal Firewall Programs
A firewall is another type of program useful for protecting your PC. A firewall program protects your resources by filtering network packets. If your computer is connected to a network that is not protected with a firewall, or if you are taking a computer on the road, you probably should use a personal firewall program for added protection.
For the most part, you don't need to do anything to be protected with a personal firewall program other than turn it on. So the best thing about this kind of protection is that it isn't a nuisance to use.
A number of good personal firewall products are on the market, including offerings from McAfee and Symantec that come bundled with their antivirus products. Other personal firewalls worth considering include Personal Firewall from Tiny Software, http://www.tinysoftware.com, Sygate Personal Firewall from Sygate Technologies, http://www.sygate.com, and Zone Alarm, from Zone Labs, http://www.zonelabs.com.
In addition, Windows XP comes with personal firewall software, with the grand virtues that it is free and (if you have Windows XP) you already have it.
To activate the Windows XP personal firewall, just go the Control Panel and double-click the item that says Windows Firewall. To turn on Windows Firewall click the On button as shown in Figure 17.11, and then click OK. That's all there is to it.
Figure 17.11. It's easy to turn on the personal firewall that ships with Windows XP.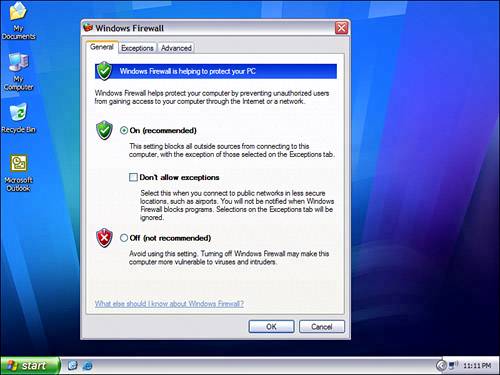 The status of each network connection will now include "firewalled" in the Network Connections window.
TIP
You can also use the Network Setup Wizard to turn on the Windows XP Personal firewall. The Network Setup Wizard can be started by clicking Setup a Home or Small Office Network on the Network Tasks pane of My Network Places.