Note
The Wireless Network Setup Wizard makes it very easy to set up a wireless network, provided the Wizard works with your equipment. The catch is that it doesn't work with many access points, so you might still have to manually configure your wireless network.
Setting up a wireless network just got a whole lot easier with the release of Windows XP Service Pack 2 (SP2). This update to the Windows XP operating system provides a new tool for configuring wireless networks, the Wireless Network Setup Wizard.
To start the Wizard, click Setup a Wireless Network for a Home or Small Office on the Network Tasks pane of the My Network Places window.
In the Wireless Network Setup Wizard, you start by assigning a name (SSID) to the network as shown in Figure 13.22.
Figure 13.22. The Wireless Network Setup Wizard in SP2 helps you easily configure a wireless network.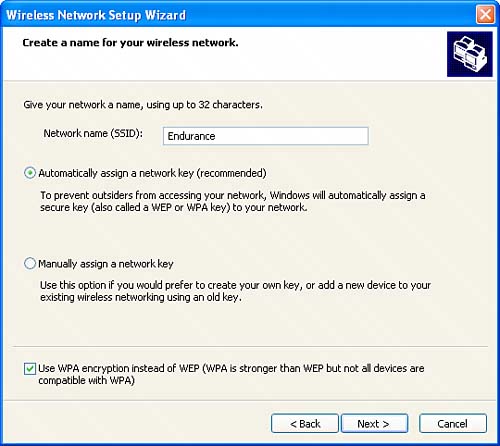 On the same Wizard panel that you use to name your network, an encryption key can be chosen for you automatically, which saves you trouble, or you can enter one manually.
By default, WEP encryption is selected. Check the WPA box at the bottom of the panel to use this alternative form of encryption, explained in Chapter 15, instead. (WPA is stronger than WEP, but not all devices support it.)
Click Next to continue with the Wizard. You can then choose to proceed manually or with a USB flash drive. Manually means that the Wizard prints out the settings. You then use the printout to enter the settings in your access point and the wireless devices connected to your network.
TIP
If you don't see My Network Places on your Windows XP Start menu, you can open it my starting the Windows Control Panel, choosing Network Connections in the Control Panel, and selecting My Network Places from the Other Places pane.
If you've chosen the USB flash drive option, you need to have a USB flash drive connected to your computer. The Wizard then saves the wireless network settings on the USB flash drive. You take the USB flash drive to your access point and wireless computers each in turn, plug it in, and it configures your wireless network and devices for you.
Although most mobile computers equipped to use a wireless network probably do have a USB connection, the same thing cannot be said of access points. So bear in mind that the Wireless Connection Network Setup only works in the USB flash drive mode if your access point has a USB connection. Check to verify this before you try to use it.