---
The Message Tracking Center is used to track the flow of system messages, interpersonal e-mail messages, and public folder messages, as well as the status of messages in the Exchange organization (Figure 3.11). It can be used as a troubleshooting tool and to gather data for statistical reporting. The Message Tracking Center can also track messages being sent to or received from other e-mail systems, such as X.400 mail systems and Lotus Notes. Although the Message Tracking Center cannot track messages before they enter the Exchange environment or after they leave the Exchange environment, it can at least confirm that a 'lost' message successfully traveled through the Exchange environment.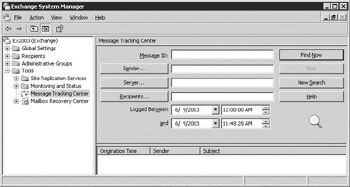 Figure 3.11: Message Tracking Center window
Although the Message Tracking Center is always available, message tracking (i.e., collecting the data used by the Message Tracking Center) is turned off by default. Message tracking is set on each server. All messages that are routed through a server are added to the tracking logs if message tracking has been enabled for the server. You can enable message tracking for a server by using ESM to access the General tab of the server's Properties page. Select the Enable message tracking check box to enable message tracking for the server. You can choose to record the subject line of the e-mail message.
The logs used by the Message Tracking Center are stored in the \Exchsrvr\servername.log folder, where servername is the name of the Exchange server. A new log file is created each day for each server. Each daily log file includes the date in its name using the format yyyymmdd.log. The logs contain information about the sender, recipients, time stamps, message ID, and message size.
You can access the Message Tracking Center from within ESM by selecting Tools →Message Tracking Center. Messages can be searched using any combination of the following criteria:
sender ID

recipient ID(s)

date and time period

message ID
In addition to specifying the search criteria, you must also select the Exchange server from which the message was sent. If you do not know the sender's server, you can specify one of the servers through which the message may have been routed. This will give you a partial history of the message covering the time it arrived at the specified server until it was delivered to the recipient or until it was routed outside of the Exchange organization.
A list of messages matching the specified criteria is displayed in the lower pane of the Message Tracking Center window. If you double-click on one of them, you can view the routing history of the message.
---