Overview
Microsoft Windows SharePoint Services 3.0 and Microsoft Office SharePoint Server 2007 begin a new age in content aggregation, business process management, business intelligence, enterprise collaboration, and the content management lifecycle, as shown in Figure 1-1.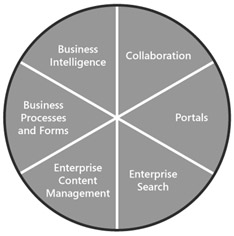 Figure 1-1: SharePoint Server provides a full suite of functionality for business.
Those familiar with the previous versions of Windows SharePoint Services and SharePoint Portal Server will be pleasantly surprised with the complete rework of the product functionality and its robust ability to scale to any organizational requirement. The administration user interface (UI) has been completely redesigned to make it easier and quicker to navigate and perform administrative tasks. To understand the role that each of these products plays in the overall SharePoint Technologies suite, descriptions of Windows SharePoint Services and SharePoint Server follow.
Windows SharePoint Services Provides the core functionality for SharePoint technologies, including storage, security, search, management, deployment, site model, application programming interfaces (APIs), and collaboration. A much-appreciated improvement in Windows SharePoint Services is the addition of a common Central Administration Web interface that expands as products are installed onto the platform. Windows SharePoint Services requires Windows Server 2003 SP1 or later, Microsoft SQL Server 2000 Service Pack 3a or Microsoft SQL Server 2005, or Microsoft SQL Server Express 2005.

Microsoft Office SharePoint Server 2007 Delivers further functionality beyond what is provided with Windows SharePoint Services, including InfoPath forms services, expanded search and indexing capabilities, Business Data Catalog (BDC) to connect line-of-business (LOB) products, business intelligence, user profiles, records management, Web content management, and more. In addition, SharePoint Server provides rich Shared Services Providers and the ability to scale using IntraFarm or Inter Farm Shared Services. Figure 1-2 shows the logical architecture when implementing the entire product suite.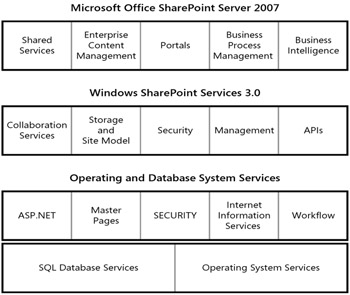 Figure 1-2: Microsoft Office SharePoint Server 2007 builds on and depends on the foundation laid by Windows SharePoint Services.
Although Windows Server 2003 and SQL Server are required components for any Windows SharePoint Services or SharePoint Server implementation, they are not covered in great detail here except where a specific configuration for Windows SharePoint Services is required. There are many resources detailing the installation and configuration of both products, most notably the Administrator's Companions and Administrator's Pocket Consultants series from Microsoft Press.