About Score Editing
Scoring can be just as complex as the music it attempts to represent. To understand and make the best of Cubase's scoring capabilities, it is useful to know music and music notation. What is important in score editing is that the result is legible to other musicians . In many ways, the score approximates the basic MIDI information in a sequence. A musician, in turn , interprets this score by playing the notes or symbols that appear on the sheet music, and you can play back this performance as an audio or MIDI interpretation, depending on the instrument the musician plays. When transforming MIDI into a score, using the MIDI already present in your project offers a good starting point. But often, the performance irregularities that make the music sound great might not be appropriate for the conversion to scored events on a music sheet. If this is the case, you might have to rerecord some MIDI parts . In other words, a good sounding MIDI recording might not necessarily translate very well into a good-looking score. Cubase offers ways to help you optimize the MIDI data so that it looks good on paper, but sometimes you will be better off copying the MIDI events and editing them a bit to make these events look good as a musical sheet. For example, you could quantize the MIDI copy so that it corresponds to clean lengths and end points, which translates better on paper.
Since you can only transform MIDI events into a music sheet, if you are recording a project that contains mostly audio content, you have to create additional MIDI tracks to create a score out of it. One thing to remember about MIDI recording is that the length and precision of your MIDI events greatly influences how the information is displayed in the score itself. You can tell Cubase how to interpret the information for an optimized layout; however, to avoid manipulating the events extensively, you should quantize everything before you start editing your score. Figure 16.1 shows a simple melodic line that was played without quantization.
Figure 16.1. How MIDI events appear in the score; a before (top) and after (bottom) look at a simple melodic line taken from the MIDI events.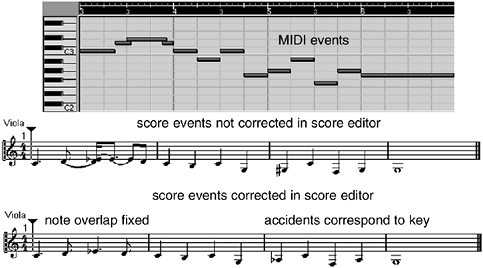 On the top part, you can see how Cubase interpreted the information, creating a complex series of ties between the notes to reproduce what was played. On the lower part, you can see the same melodic line, but quantized and enharmonically corrected. This means that the "accidents," or notes that are outside the regular scale, have been adjusted to better reflect a correct way of scoring musical notes. This is possible because Cubase takes the MIDI events and compares them with the score settings to display the score layout and matches both sets of information with standard scoring practices. So, depending on your score settings and how you recorded your MIDI events, your results will vary.