When you open Retrospect, its main window, called the Directory, appears (see Figure 14). You can click any of the tab-like buttons at the top of the window to display a pane containing a few buttons; clicking these buttons opens the windows where you actually perform useful tasks. The number and names of these tabs (and the controls on them) differ between Retrospect Desktop and Retrospect Express.
Figure 14. Retrospect's main Directory window. This figure shows Retrospect Desktop; Retrospect Express has fewer panes and a somewhat different arrangement of buttons.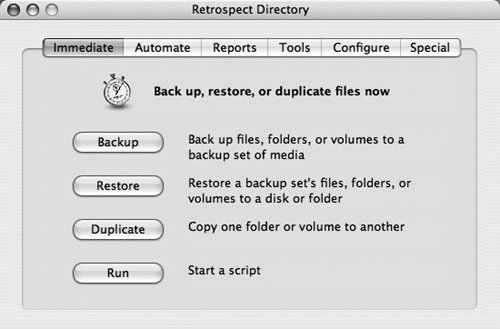 When you click a button to open a window, the Directory usually remains visible in the background; you can return to it at any time by choosing Retrospect Directory (or Retrospect Express Directory) from the Window menu. Be aware that almost every action you perform in Retrospect opens at least one new window; you could easily end up with half a dozen or more windows open at once.
Because Retrospect helpfully includes explanations of each button right in the Directory window, I'm not going to reiterate all the button names and functions here. I do, however, want to point out where you can find some commonly used features.
To set Retrospect's preferences: In Retrospect Desktop, click Preferences on the Special pane. In Retrospect Express, click Preferences on the Configure pane.

Note

For most users, Retrospect's default preferences are ideal.




To set up a recurring Duplicate or Backup: Click Scripts on the Automate pane. See Set Up a Duplicate Script (this page) and Set Up a Backup Script (page 203).

To restore backed-up files: Click Restore on the Immediate pane. See Restore a Backup (page 210).

To duplicate a volume as a one-time activity: Click Duplicate on the Immediate pane.

To prepare client machines on your network for backup: Click Clients on the Configure pane (Retrospect Desktop only). See Back Up Network Clients (page 207).

To run a script immediately: Choose the script name from the Run menu.