Altova XMLSPY—XML Developer Certification Overview
The Altova XMLSPY—XML Developer Certification is designed to challenge XML developers seeking to upgrade their technical skill sets in core XML infrastructure technologies. It is not an examination about the use of XMLSPY, although a solid understanding of the XMLSPY development environment would undoubtedly be helpful in learning the subject matter. The Altova XMLSPY—XML Developer Certification is unique among XML certification course offerings in that the materials covered are truly platform- and vendor-independent, covering only standards-based W3C technologies relating to XML subject matter. The certification does not cover topics related to XML programming language bindings, such as Java APIs for XML processing or Microsoft's XML processing APIs.
Subjects covered
The Altova XMLSPY—XML Developer Certification covers the core infrastructure XML technologies. These are W3C recommendations with the notable exception of WSDL. WSDL is, however, widely implemented in its draft form and is expected to be even more widely adopted when finally released as a full W3C recommendation. The certification requires a 60-minute examination consisting of 50 multiple choice questions, each having four to five choices. An overall score of 80 percent or higher must be obtained in order to pass the examination (that means you cannot make more than 10 mistakes). The questions are practical in nature in that the subjects covered reflect XML technologies that are being used in industry software development projects across various technology platforms (for example, Microsoft .NET and J2EE). Figure 9-1 shows what subjects are covered.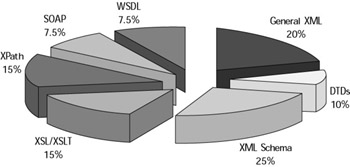 Figure 9-1: Breakdown of topics covered and the relative weight of each subject.
Benefits of certification
Earning the Altova XMLSPY—XML Developer Certification recognizes your expertise in working with XML technologies. In the information technology (IT) industry, your employer, clients, and peers will recognize this certification as a symbol of the skills and knowledge you've gained through experience and dedicated study. The Altova XMLSPY—XML Developer Certification provides the following:
Industry recognition of your knowledge of and proficiency in standards-based XML technologies

A logo and a certificate that identify your certification status to colleagues and clients

Invitations to Altova special events, including various industry tradeshows and Webinars
Furthermore, various software industry salary studies have indicated that IT certification can potentially help you land your next job, move up a level within your organization, or earn a higher salary. Finally, it is always more enjoyable to study with a purpose, and setting a goal of becoming a certified XML developer can be a great way of motivating and challenging yourself. What are you waiting for, anyway?
Availability
The Altova XMLSPY—XML Developer Certification exam is currently offered only in the English language, and only in the U.S. and Canada. The program may be expanded to additional international testing sites at a future date. Prometric delivers Altova XMLSPY—XML Developer Certification examinations at all of the more than 1,500 Prometric testing centers in the U.S. and Canada. The cost of taking the XML Developer Certification exam is $119 (US). If you are unsuccessful in passing the examination the first try, there are no restrictions on how many additional attempts you may have to pass the examination.
How to register
Registration for the Altova XMLSPY—XML Developer Certification examination can be done either by phone, online, or in person at a local authorized Prometric testing center. To register online, please visit www.2test.com/. Payment can be made by phone or online using any major credit card. You have one full year from the time of payment until you must schedule an examination with a local testing center. To locate a testing center in your local area, visit www.2test.com/tcl/ZipCode.jsp .