Blooper 5:

Outdated Content

Almost as bad as contradictory information on a website is information that is clearly out-of-date. Sites that have outdated information are basically telling the world, "We are disorganized and unreliable." Although out-of-date information on someone's personal website is perhaps not surprising, it is amazing how common it is on websites of large corporations and organizations.

Zits Partnership. Reprinted with Special Permission of King Features Syndicate.
Russell Stover, a candy company, felt it needed a Web presence to keep up with competitors like See's Candy, which has for several years had a website that allows customers to order candy online "even customized selections of candy . So Russell Stover created RussellStover.com.
Or at least, it announced plans to create the site. In the late 1990s, the company put up a placeholder site promising that the real site would be up in "Fall 2000." Unfortunately, the company then failed to meet its own deadline. Until recently, people who visited Russell Stover's Web address saw what appeared to be a home page but was really just a picture of the company's planned home page, which supposedly was "Coming Soon ... Fall 2000." The entire placeholder page was a single image, with almost no actual working links (Figure 1.21). A friend told me he tried to use the site to buy candy in December 2000, well after the stated "Fall 2000" deadline. He wasted several minutes clicking on parts of the image before he noticed the Coming Soon sign and realized that the only way to order candy was to call the 800 number at the bottom of the page.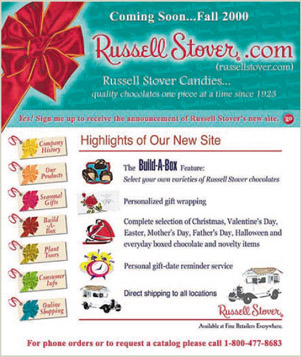 Figure 1.21:

www.RussellStover.com (Feb. 2001)-Home page says site will be ready "Fall 2000."
After my friend told me about RussellStover.com, I checked it every few months. As of January 2002, the new site was still "Coming Soon ... Fall 2000." In February 2002 "a year and a half after the promised deadline "Russell Stover's promised new site finally went online.
A more recent example comes from the California Shakespeare Festival website. Its home page lists the season 's plays and marks the one currently playing. Or at least, that's the plan; the execution sometimes lags a little. On September 16, 2002, the home page still marked The Seagull as "now playing," even though that play ended on September 1 and The Winter's Tale started on September 11 (Figure 1.22).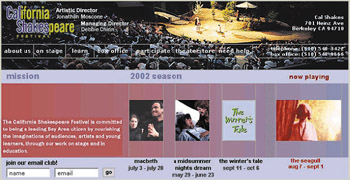 Figure 1.22:

www.CalShakes.org (Sept. 2002)-On September 16, The Seagull is still marked as "now playing" even though it ended on September 1 and another play started 5 days ago.
A website in severe need of updating is that of Enron Corporation, an energy company that in late 2001 declared bankruptcy. Although Enron's corporate website was partially updated to reflect its new circumstances (see the next section, Avoiding the Blooper), much out-of-date information remained. In March 2002 "several months after its stock had crashed to zero and it had laid off most of its employees , Enron Energy Services' home page continued to describe Enron as "one of the world's leading electricity, natural gas, and communications companies..." (Figure 1.23). Leading in what? one might ask.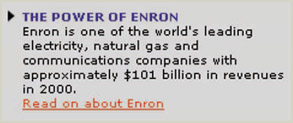 Figure 1.23:

www.Enron.com (Mar. 2002)-Months after the Enron scandal became public and Enron filed bankruptcy and laid off most of its employees, its Enron Energy Services page continued to describe it as "one of the world's leading" power companies.
A somewhat specialized example of outdated content comes from the publisher of this book, Morgan Kaufmann Publishers. Its website, MKP.com , provides secure e-commerce functions to allow people to buy books using a credit card number. Providers of secure transactions are supposed to provide a user 's browser with a digital certificate "issued by a trusted authority such as VeriSign "to ensure the customer that the transaction is secure. Unfortunately, Morgan Kaufmann allowed its certificate to expire. Anyone trying to buy a book from MKP.com in late April 2002 received a warning that the certificate had expired , implying that the transaction might not be secure (Figure 1.24). Needless to say, the company quickly renewed its certificate when told of the problem.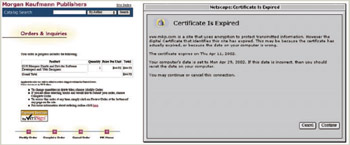 Figure 1.24:

www.MKP.com (Apr. 2002)-Attempts to purchase a book warned that the site's digital certificate for secure transactions had expired.
Avoiding the Blooper
Many organizations want a Web presence. Too often however management has no idea how much of a commitment that requires. Websites have to be kept up-to-date. That takes time, effort, staffing, and money.
Stuff Happens: There Is No Such Thing as Permanent Content
Even websites that are only brochures for a company or organization have to be updated. People mentioned in the site leave or change roles. Companies move to new offices. Contact information changes. Organizations change their names and logos. Company circumstances change.
Consider Enron. Although, as described earlier, it overlooked items on its site that it would have been wise to update or remove, it at least did a good job of updating its home page (Figure 1.25).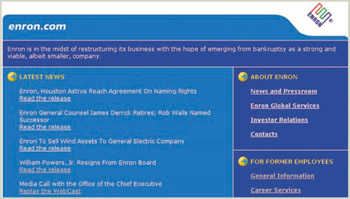 Figure 1.25:

www.Enron.com (Mar. 2002)-Enron's home page was updated when the scandal broke and Enron filed bankruptcy and laid off most of its employees.
Variable Content Requires Extraordinary Effort
If a site includes content that is supposed to change over time "product availability and prices, special offers and sales, press releases, articles, event calendars, facts and figures, sports scores, weather, and downloads "the commitment required to keep it up-to-date skyrockets.
Meet Your Own Stated Deadlines, or Don't State Them
Don't embarrass your organization by posting dates for revisions and additions to your website and then failing to meet those dates. If you post an announcement of an update and the announcement promises the update by a certain date, you should meet that deadline. If, for unforeseen reasons, you miss the deadline, at least yank the announcement down so it doesn't serve as a giant indicator of your company's unreliability.
Websites Must Be Maintained!
The bottom line: If company managers think they want a Web presence for the organization but plan their budget and staffing only for the initial site development, ignoring maintenance, they should think again.