The KM tools and techniques involve theoretical integration of various disciplines such as technology, psychology, epistemology and modern physics. KM tools and techniques are defined by their social and community role in the organization in (1) the facilitation of knowledge sharing and socialization of knowledge (production of organizational knowledge); (2) the conversion of information into knowledge through easy access, opportunities of internalization and learning (supported by the right work environment and culture); (3) the conversion of tacit knowledge into "explicit knowledge" or information for purposes of efficient and systematic storage, retrieval, wider sharing and application. The most useful KM tools and techniques can be grouped as those that capture and codify knowledge and those that share and distribute knowledge.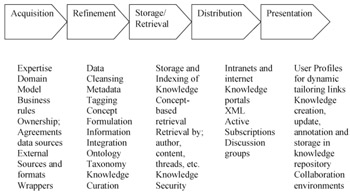 Figure 5: Knowledge Management Process Model.
Capture and codify knowledge: There are various tools that can be used to capture and codify knowledge. These include databases, various types of artificial intelligence systems including expert systems, neural networks, fuzzy logic, genetic algorithms and intelligent or software agents.

Databases. Databases store structured information and assist in the storing and sharing of knowledge. Knowledge can be acquired from the relationships that exist among different tables in a database. For example, the relationship that might exist between a customer table and a product table could show those products that are producing adequate margins, providing decision-makers with strategic marketing knowledge. Many different relations can exist and are only limited by the human imagination. These relational databases help users to make knowledgeable decisions, which is a goal of knowledge management. Discrete, structured information still is managed best by a database management system. However, the quest for a universal user interface has led to the requirement for access to existing database information through a Web browser.

Case-Based Reason Applications. Case-Based Reasoning (CBR) applications combine narratives and knowledge codification to assist in problem solving. Descriptions and facts about processes and solutions to problems are recorded and categorized. When a problem is encountered, queries or searches point to the solution. CBR applications store limited knowledge from individuals who have encountered a problem and found the solution and are useful in transferring this knowledge to others.

Expert Systems. Expert systems represent the knowledge of experts and typically query and guide users during a decision making process. They focus on specific processes and typically lead the user, step by step, toward a solution. The level of knowledge required to operate these applications is usually not as high as for CBR applications. Expert systems have not been as successful as CBR in commercial applications but can still be used to teach knowledge management.

Using I-net Agents - Creating Individual Views from Unstructured Content. The world of human communication and information has long been too voluminous and complex for any one individual to monitor and track. Agents and I-net standards are the building blocks that make individual customization of information possible in the unstructured environment of I-nets. Agents will begin to specialize and become much more than today's general purpose search engines and "push" technologies.

Two complimentary technologies have emerged that allow us to coordinate, communicate and even organize information without rigid, one-size-fits-all structures. The first is the Internet/Web technologies that are referred to as I-net technology, and the second is the evolution of software agents. Together, these technologies are the new-age building blocks for robust information architectures designed to help information consumers find what they are looking for in the way that they want to find it. The web and software agents make it possible to build sophisticated, well performing information brokers designed to deliver content from multiple sources to each individual in the individual's specific context and under the individual's own control. The software agents supported with I-net infrastructure can be highly effective tools for individualizing the organization and management of distributed information.

Systems to share and distribute knowledge: Computer networks provide an effective medium for the communication and development of knowledge management. The Internet and organizational intranets are used as a basic infrastructure for knowledge management. Intranets are rapidly becoming the primary information infrastructure for enterprises. An intranet is basically a platform based on internet principles accessible only to members of an organization/community. The intranet can provide the platform for a safe and secured information management system within the organization and help people to collaborate as of virtual teams, crossing boundaries of geography and time. While the internet is an open-access platform, the intranet, however, is restricted to members of a community/organization through multi-layered security controls. The same platform can be extended to an outer ring (e.g., dealer networks, registered customers, online members, etc.) with limited accessibility as an extranet. The extranet can be a meaningful platform for knowledge generation and sharing, in building relationships, and in enhancing the quality and effectiveness of service/support. The systems that are used to share and distribute knowledge could be group collaboration systems; Groupware, intranets, extranets and internet, office systems; word processing, desktop publishing, web publishing, etc.