You can track more than a single point in a footage layer. If you wanted to replace a billboard, sign, or doorway in a clip you would use one of After Effect's multi-point trackers . These options are grayed out unless you have another layer in the composition to apply the data to.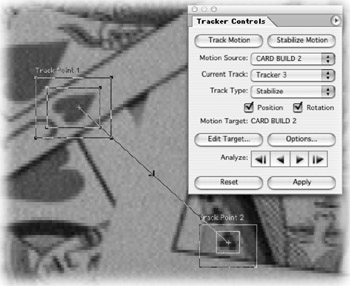 Parallel Corner Pinning, which is actually three-point tracking, is used to track things that stay parallel to the shot where you do not need to track perspective. If you have a perfect zoom into a window you would use Parallel Corner Pinning, for example.

Perspective Corner Pinning is four-point tracking, and is used to simulate the distortion that occurs with perspective. This type of corner pinning is perfect for billboards, book covers, or any sort of four-cornered object with perspective skew.

With both types of multi-point tracking the attach points mark the placement of the corner points. You can place the feature and search regions away from the attach points over areas with better contrast variations than there may be on whatever you are trying to cover up.