You can copy a mask into a Paint layer, but did you know you could go the other way!? It's awesome .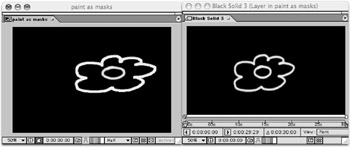 Draw a closed stroke in either Vector Paint or Paint Effects.

Select the stroke:

In Vector Paint use the Selection Tool in the Layer Window to select a stroke.

In a Paint Effect layer, press PP to open the Paint Strokes, and select the stroke.

Copy the stroke by pressing Cmd+C (Ctrl+C).

It gets a bit confusing here but click on the pen tool and draw a mask-any kind.

Make a mask shape keyframe and with that keyframe selected, paste (Cmd+V or Ctrl+V) the Stroke as a Mask. Wow!