Hack 73. Connect to the Internet with a Bluetooth Phone


Don't worry about normal phone dial-in connections, hotspots, or WiFi. No matter where you are, the Internet is with you, as long as you have a Bluetooth-enabled phone.
Lots of phones these days include Bluetooth connections, and if you have one, Internet access for your laptop is only a phone call away. All you'll need to do is fire up your laptop and phone, connect them to one another, and make the Internet connection. To do this, you'll of course need a laptop with Bluetooth capabilities as well.
| | |
| --- | --- |
| | If your laptop doesn't have Bluetooth capability, it's easy to add. You just need a USB Bluetooth adapter. Companies including D-Link, Keyspan, Belkin, and many others sell them, often for around $30. Just plug the little device into your USB port, follow installation instructions, and you'll be set. |
Don't expect broadband connection speeds when you do thisat least not yet. The exact connection speed you'll get varies according to the precise technology your cell phone uses and, of course, depending on the quality of your current cell phone connection. These days, though, expect 20 to 40Kbps with a GSM/GPRS cell phone, 20 to 150Kbps with EDGE, about 50 to 120Kbps with CDMA 1xRTT, and from 300 to 500Kbps with CDMA 1xEV-DO. If you don't know which technology your cell phone uses, check with your cell phone carrier, and they'll let you know.
The exact screens you'll see when you make the connection will vary somewhat from phone to phone, so for this hack, I'll show you how to do it with the Sony Ericsson T68i Bluetooth-enabled phone. The steps with other Bluetooth-enabled cell phones should be very similar.
First, turn on your cell phone and laptop, and make sure they're within range of one another. Then turn on the phone's Bluetooth radio. To do this on the Sony Ericsson T68i, press the joystick button and select Connect
Bluetooth
Options
Operation Mode
On.
Next, you'll have to make the phone discoverable so that your laptop can find it. On the Sony Ericsson T68i, press the joystick button, and select Connect
Bluetooth
Discoverable.
Now you need to discover the phone in XP. In XP, go to My Bluetooth Places and select View Devices in Range. You should see the Sony Ericsson T68i icon. Right-click it and select Discover Available Services. You'll get to a group of icons that show the list of available services. Right-click the Dial-Up Networking service and select Connect Dial-up Networking, as shown in Figure 7-28.
Figure 7-28. Connecting to the Internet by right-clicking the Dial-up Networking icon and choosing Connect Dial-up Networking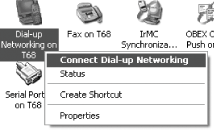 You'll be asked whether you want to accept or decline the connection or "Add to Paired." It's a good idea to select the "Add to Paired" option. That way, the next time you want to connect to the Internet using your laptop and cell phone, they'll automatically discover one another, and you won't have to go through the entire discovery process.
When you select "Add to Paired," the screen shown in Figure 7-29 will appear. The device name will already be filled in for you. Make up a PIN that you want to use for pairing the devices, and type it into the Bluetooth PIN Code box.
Figure 7-29. Pairing your phone and laptop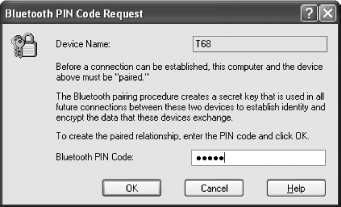 | | |
| --- | --- |
| | It's a good idea to use only numbers for your PIN; otherwise, you might have problems with keying in alphabetic characters using your phone's PIN dialog box. |
On your cell phone, you'll have to accept the pairing. A dialog box will appear asking if you want to accept the pairing. Select "Add to Paired," and type in the same PIN you used on your laptop.
From now on, connecting to the Internet is the same as with any other dial-up connection. The familiar dial-up connection dialog box will appear in XP, asking for a username, password, and phone number. Enter the information you normally use to connect to your ISP, including your username, password, and phone number. Click the Dial button, and you'll dial in and connect.