17. Outputting Specialized File Types
While Photoshop is a feature-rich and truly enjoyable program, it is frequently not the end of the road for a designer or artist. Most often, professionals (and even hobbyists) will need to save their files for use in other software packages and environments. Whether it's a JPEG for a Web site, an EPS for a professional printer, or a PICT file for video editing, Photoshop can create it. In fact, Photoshop supports more than 20 file formats by default. Additional formats used by cameras or other software packages can be added via plug-ins.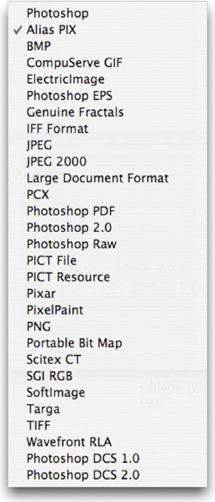 On the Photoshop installation disc you'll find additional plug-ins to install. You can install additional file formats by navigating to <PS Application folder> > Plug-Ins > File Formats. To access special formats choose File > Save As and pick a file type from the Format list. Not all formats will work with every color space or image type, but each has a special purpose. Let's explore file types in depth.