AUTONOMIC COMPUTING BUSINESS PARTNER INITIATIVE
IBM is already working to make autonomic computing systems a reality with the introduction of advanced technologies across the IBM portfolio of products and services. These exciting developments in autonomic computing technologies are delivering to customers computing systems that are more self-managing, resilient, responsive , efficient, and secure.
Because business partners are an integral part of making this vision a reality, IBM announced the autonomic computing Business Partner initiative. As part of this initiative, IBM offers technical consultation that will provide a high-level exchange on design and architecture topics to qualified business partners who are in the process of building similar autonomic computing solutions.
Among the offerings are:
Marketing and sales support

Education and certification

Technical support

Incentives

Financing

Relationship management and membership communications
As a link connecting IBM and its customers, the global network of reselling and ISV partners is crucial to the successful delivery of any technology.
As Figure 13.1 shows, there are many benefits to be gained by becoming an IBM business partner.
Figure 13.1. The benefits of the IBM Business Partner initiative.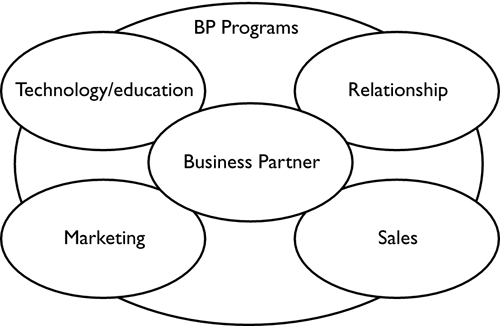 If ISVs want to extend their products and become major players to be reckoned with in the global market, they have to make use of strategic alliances. These alliances need to be made with organizations, such as IBM, that dominate the marketplace . Other industries, such as transport, airline, and building and construction, that are only now realizing the benefits of partnering and alliances could have used this lesson. These industries recognize that few organizations have the skills or resources to meet the demands of their market.
The software sector needs to acknowledge this too. With the convergence of the IT, telecommunications, and content markets, new alliance business models—which will be a mix of technology, regulation, competition, globalization and skills—need to emerge.