About Templates
HomePage comes with hundreds of templates you can use to build your Web pages. These templates are essentially prebuilt Web pages into which you plug your pictures, movies, and text. Although you can build Web pages from scratch and publish them on a .Mac site, .Mac templates spare you all that work and free you from having to know any HTML. You supply the content and HomePage provides the rest: Its main interface lists the kinds of pages you can create, displays thumbnail images of the various templates, and provides a map of the sites and pages published on your .Mac account ( Figure 4.6 ).
Figure 4.6. When you first load the HomePage section of the .Mac members ' Web site, you're presented with its main interface. The top portion lists all of your sites and pages within those sites in column view. The bottom portion shows the templates you can use to quickly create new pages.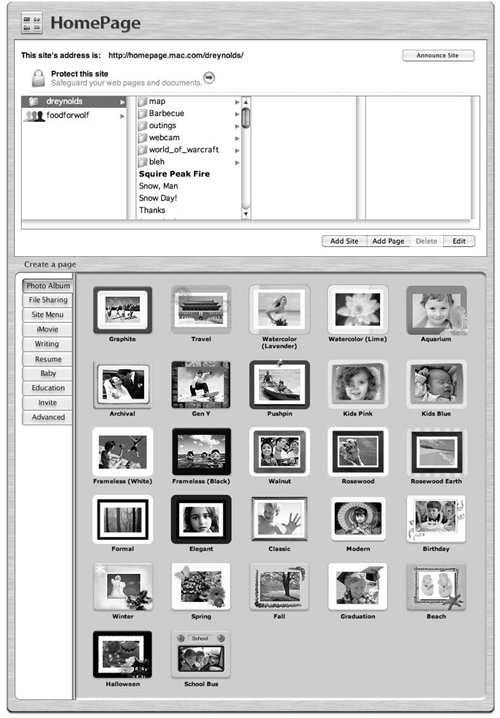 HomePage templates are divided into the following ten categories (the categories and templates on .Mac sometimes change, so this may not be a completeor accuratelist):
Photo Album. This option provides more than two dozen templates for sharing pictures you've uploaded to the Pictures folder on your iDisk ( Figure 4.7 ).

Figure 4.7. The extensive Photo Album template set is a quick way to get your digital albums online.

File Sharing. These templates help you to create a page that lets visitors download files from your Movies, Pictures, Public, Sites, and Music folders ( Figure 4.8 ).

Figure 4.8. The File Sharing template set makes it easy to create a page allowing others to download files from your .Mac Web site (including your Public folder).

Site Menu. Sort of the uber-template, the Site Menu template lets you create a menu page that can be used to navigate the rest of your .Mac site ( Figure 4.9 ).

Figure 4.9. The Site Menu template set allows you to pull together an index page that points to several other Web pageseither within your .Mac Web site or on external sites.

iMovie. More than a dozen templates in this category let you showcase movies you upload to your iDisk Movies folder ( Figure 4.10 ).

Figure 4.10. The iMovie template set lets you easily put your movies online.

Writing. Well, we've already seen templates for sharing pictures, movies, and files, so why not some for text? Choose from more than a dozen templates for creating text-based Web pages. Some of these pages feature images from your iDisk Pictures folder, but no files are needed to add text; all you have to do is type your prose into some HomePage text fields ( Figure 4.11 ).

Figure 4.11. The Writing template set provides some attractive starting points for text-based pages, such as newsletters.

Resume. Looking for a job? Might be worth filling out these templates to tempt potential employers . You essentially fill in the blanks; you won't need to upload files to your iDisk ( Figure 4.12 ).

Figure 4.12. The Resume template set makes it easy for you to post your rsum online for others to read.

Baby. As of this writing, HomePage offers three templates for creating baby announcements: Girl, Boy, and Bath ( Figure 4.13 ).

Figure 4.13. The Baby template set helps you get the word out about that new addition.

Education. Tailored to schools and educators, these templates include designs pertaining to school events, sports teams , school news, homework, and more ( Figure 4.14 ).

Figure 4.14. The Education template set gives those involved in education (such as teachers and coaches) specialized pages.

Invite. Throwing a party? Choose from templates that include Birthday, Football, and Picnic themes ( Figure 4.15 ).

Figure 4.15. The Invite template set is an easy way to put up an electronic invitation to a party, sporting event, or other gathering.

Advanced. This option lets you publish files you've created using an HTML editor or other external Web authoring tool ( Figure 4.16 ). Not technically a template (you can't plug content into ityou build the page yourself from the ground up), it's included in the template list for simplicity's sake.

Figure 4.16. One lonely item in the Advanced section allows you to integrate any HTML page into your .Mac site.