4.5. Music Store Billing
The iTunes Music store keeps track of what you buy and when you buy it. If you think your credit card was wrongly charged for something, or if you suspect that one of the kids knows your password and is sneaking in some forbidden downloads before you get home from work, you can contact the store or check your account's purchase history page to see what's been downloaded in your name .
4.5.1. The Customer Service Page
If you have general questions about using the iTunes Music Store, have a problem with your bill, or want to submit a specific query or comment, the online Customer Service center awaits. To get there, connect to the Internet and then choose Help

-Music Store Customer Service.
Click the link that best describes what you want to learn or complain about. For billing or credit-card issues, click Purchase Information.
---
Note: The iTunes Music Store sends out invoices by email, but they don't come right after you buy a song. You usually get an invoice that groups together all the songs you purchased within a 12- hour period, or for every $20 worth of tunes that you buy.
---
UP TO SPEED
AAC, Copy Protection, and You
Apple's AAC files are copy-protected , but not all AAC files are. Some, which you may have collected from other Web sites, are freely copyable.
How can you tell the difference?
In iTunes, click the questionable track in the music library and then press

-I. The Summary tab of the song shows the album cover, technical information about its encoding, who bought it, and where it lives on the computer. If the Kind says "Protected AAC audio file," well, you've got your answer.
(In this picture, the phrase [remote] means that you're checking out a song that's on another computer on the network.)
Incidentally, the suffix on a protected AAC file (as viewed on your desktop, for example) is .m4p. iTunes 4 can play AAC files that were ripped in iTunes, and it can play protected AAC files downloaded from the iTunes Music Store.
But beware: you may have problems playing non-iTunes AAC tracks from another online music service or Web site.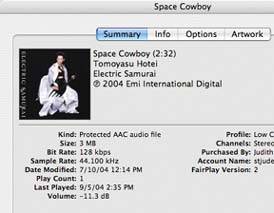 4.5.2. Your Purchase History
To have a look at just how addicted you've grown to buying songs, open iTunes, click the Music Store icon in the Source List, and sign into the store. When you see your user name appear next to the Account button in the iTunes Music Store window, click it. In the box that pops up, click the View Account button.
When you get to the Account Information screen, click Purchase History. In the list that comes up, you see all of the songs you've bought (Figure 4-10).
---
Tip: Every wonder how something would play in Peoria? Now you can see for yourself

what's

playing in Peoria, thanks to the Radio Charts feature of the iTunes Music Store. Just click the Radio Charts link on the Store's main page to see what's at the top of the pops on 1,000 stations around the country.
---
| | |
| --- | --- |
| | Figure 4-10. The Purchase History area records all of the songs and albums downloaded and charged to an Apple Account, which can be useful for bracing yourself for the coming credit card bill. The list starts with the most recent ones. |
4.6. "Books on Tape" from Audible
Audible.com, which you can shop right from within the iTunes Music Store, is a virtual store filled with digital "books on tape"not just books, but also everything from vocalized versions of the New York Times to programs like National Public Radio's All Things Considered. There are more than 25,000 spoken-word recordings on the site and you can hear free samples of most files for sale before you buy.
If you choose to subscribe, $15 a month gets you one recorded book a month, plus a daily, weekly, or monthly magazine or radio show. You can also skip the subscription business and just buy the books you want for a flat fee. Prices vary, but the audio file usually costs less than the hard copy and fits in your pocket better. "The Da Vinci Code," a popular mystery novel selling for $25 in book stores, was $20 on Audible. com when the book first appeared.
4.6.1. Formats within formats
Audible.com files that come from its Web site (and not from the iTunes Music Store) use the .aa file name extension. You can't convert .aa files to MP3, but you can burn them to an audio CD to play on the stereo, and you can copy them to your iPod.
Most recordings from Audible.com come in a variety of sound resolutions, from low-fi, AM radiolike sound to a really good MP3 quality. The Audible resolutions that work on the iPod are called Formats 2, 3, and 4 (from worst to best quality). Better audio quality, of course, means a bigger file to download.
For example, the 18- hour audio book for Snow Crash is split into two files. The first half is a 34 MB download in Format 2, a 63 MB download in Format 3, or a 127 MB download in Format 4. The various formats cost the same, but unless you have a broadband connection, you'll probably want to stick with the smaller file size .
---
Tip: If you decide you don't like the way a format sounds, you can download your selection again in a different format by logging back into your account on the Audible.com pagea benefit you don't get at the iTunes Music Store.
---
To make sure that iTunes is set to handle Audible files, choose iTunes

Preferences, click the General icon, and next to "Use iTunes for Internet Music Playback," click the Set button. When you download a book file from Audible.com, it shows up right in iTunes.
Before you listen to it, iTunes asks you to type in the name and password you set up for your listener account with the Audible.com site. After you type the Aubible pass-word the first time, you can listen to your book or show at your desk (Figure 4-11) or transfer it to your iPod like any other track.
| | |
| --- | --- |
| | Figure 4-11. Whether you get it from Audible.com's Web site or you buy it right within the Music Store, iTunes plays your audio book just like any other track in your library. Longer books are split into multiple parts for easier downloading from the Audible.com site. |
You play themjust like regular audio files; the iPod even remembers where in the audio book you stopped listening, so you can pick up where you left off the next time. Better yet, these little electronic bookmarks are synchronized between iTunes and the iPod; if you're listening to a certain chapter on your iPod while walking home from work, you can continue listening at your desk later, in iTunes, without missing a sentence .
---
Tip: It's fun to wander around in the iTunes Music Store as your own music plays, but it's extremely easy to drift away from your playlist-in-progress. If you want to go directly back to the song that's currently playing, just click the curled arrow on the right side of the oval iTunes display window.This handy icon is called the Snapback arrow, and it serves as a one-click shortcut to the File

Show Current Song menu dance (or the keyboard shortcut -L). It only works when there's a song actually playing, but you can use it in your own collection or when while traipsing around song previews in the Music Store.
---
GEM IN THE ROUGH
iTunes Video on the Big, Medium, or Small Screen
When iTunes 4.8 hit the ground in the spring of 2005, geeks and bloggers quickly got very excited about an underpublicized feature of the new edition: iTunes could now download and play video clips right in its own Artwork windowor even over the Mac's entire screenwth the click of a button.
To check it out, first make sure that iTunes is set for video fun: Choose iTunes

Preferences

Advanced, turn on Play Videos, and then choose what window type youd like to view them in: the Artwork pane of the main iTunes window, in a separate floating medium- sized window, or at the full-screen size. (You can also summon the fullscreen view at any time by clicking the full-screen button under the Source list.)
You can add video clips to your iTunes library just like you add songs, by dragging them into the window or by using the File

Add to Library command. Make sure the clips are in the .mov or the .mp4 formats before you import them, though, or iTunes wont know what to do with them.
And you're not just limited to your own clips, either. In the summer of 2005, the iTunes Music Store began selling "bonus" video clips along with certain albums, including works by the Shins, Coldplay, and the Dave Matthews Band . You'll know when a video is available, thanks to the little gray video camera icon next to the song's name. (Videos are usually included with albumonly purchases. Some albums include a PDF file of the liner notes as well as the video, which means you're getting everything the CD buyer gets except for a breakable plastic jewel box.)
Sure, your album download times are a little longer because you're pulling down a big 50- or 60-megabyte video file, but when you get it to your Mac, you have a cool extra feature alongside your new album's tracksand, one day soon, maybe even on the screen of your iPod.