3.1 Framework for Storage Management Software
The end-to-end equation for storage management software involves numerous components , functions, and product categories. This seemingly complex spectrum of terminology and definitions often leads to unnecessary confusion about the role and objectives of storage management software. Business and technical professionals alike will be well served by a breakdown of storage management categories into a coherent framework, as presented in the following sections. By starting with the basic functional needs and translating those into required actions (as assisted by software applications), IT professionals can create effective storage software deployment strategies.
3.1.1 The Need for Storage Management Software
Businesses face an increasing array of challenges to manage storage infrastructures . First, IT professionals must manage a dazzling array of hardware and networking components that provide the underlying platform for storage. The sheer number of devices far outstrips the capacity of a single individual or group to keep track of them. Second, storage professionals must provide capacity and associated services across a variety of applications, from databases, to email, to transaction processing. Again, keeping track of these requirements and the business fluctuations requires some degree of automated assistance. Finally, all of this must take place with 24/7/365 availability and the capability for immediate recovery in the event of any failure.
These business requirements mandate the automation of the storage management process. Using software tools, storage professionals can effectively manage and monitor their infrastructure, provide capacity and services for application requirements, and guarantee uptime through high-availability configurations with built-in disaster recovery mechanisms. These are the core components of storage management software.
3.1.2 User View of Storage Management Software Components
To accomplish their objectives, storage professionals require assistance in three primary areas for effective storage management "infrastructure management, transaction management, and recovery management "outlined in Figure 3-1. Infrastructure management provides visibility to the entire architecture and the ability to make adjustments to the underlying platforms. As storage moves from direct-attached to networked models, an administrator's visibility extends far beyond the traditional purview. Software tools for SAN management and storage resource management provide visibility and reach across the entire infrastructure.
Figure 3-1. Core components of storage management.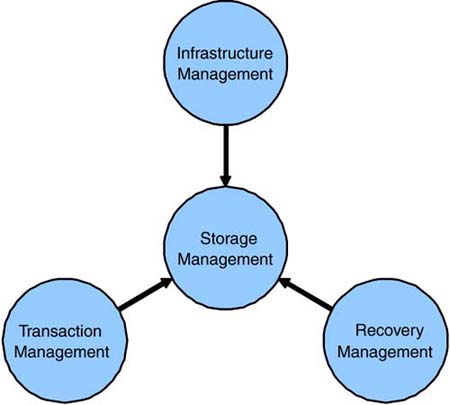 Transaction management represents the application focus storage administrators must maintain to effectively serve the organization. Tools for data coordination, such as volume management or NAS file services, help implement storage resources for applications. Once in place, storage policy management helps ensure that resources are appropriately dedicated, monitored , and managed in a dynamic storage environment.
The availability focus comes in the form of disaster recovery management through data protection. Whether through backup applications or sophisticated real-time replication, storage professionals can guarantee uptime through the use of these software applications.
Virtualization touches several aspects of the storage management infrastructure. The core principal of virtualization separates physical and logical storage, allowing for a variety of infrastructure, transaction, and recovery functions. The physical placement of virtualization in Figure 3-2 symbolizes that virtualization in and of itself provides limited functionality. However, that functionality facilitates many higher level processes outlined in the model. These are more specifically detailed in Section 3.8, "Virtualization."
Figure 3-2. Software elements of storage management.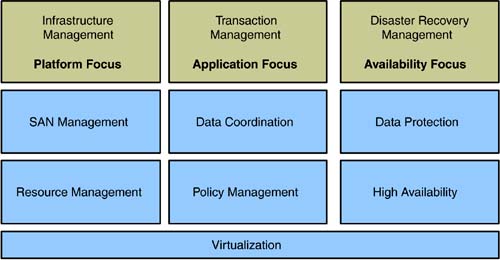 3.1.3 Piecing Together Storage Management Software
Figure 3-3 shows where certain storage software functions reside from the architectural view. The following sections cover each area in more detail.
Figure 3-3. Storage management software components in the enterprise.