Packing 101
Before you ship, you have to packwhich doesn't sound too terribly difficult. However, if you pick the wrong container, don't cushion the contents properly, don't seal it securely, or mislabel the whole thing, you could risk damaging the contents during shippingor, even worse , sending it to the wrong recipient. Even if you think you know how to pack and ship, you still probably want to read the following sections. You never know; you might pick up a few useful tips!
Essential Packing Supplies
Before you do any packing, you need to have some basic supplies on hand. I'm not just talking boxes here; I'm talking about the stuff you stuff inside the boxes, and seal them up with.
Any halfway busy eBay seller needs to have these basic packing supplies on hand so that they're not constantly running off to the office supply store every time one of their auctions closes . These items should always be available and easily accessed.
Okay, so what supplies do you need to have at hand? Take a look at this checklist:
| | |
| --- | --- |
| | Packing tapeclear or brown |
| | Bubble wrap |
| | Styrofoam peanuts or old newspapers |
| | Scissors |
| | Box cutter or similar kind of knife |
| | Postal scale |
| | Black magic marker |
| | Large shipping labels |
| | Return address labels |
| | Other necessary labels: Fragile, This End Up, and so on |
| | Labels or forms provided by your shipping service of choice |
Now for some elaboration. I recommend keeping both clear and brown packing tape on hand. Clear packing tape is best not just for sealing the box but also to tape over the address label and make it somewhat waterproof . Brown tape, on the other hand, can be used to tape over labels and logos when you reuse an old box. (And for normal box sealing, of course.)
When it comes to filler, I prefer peanuts to newspapers. That's because peanuts don't leave ink stains, and also because of the weight factor; using newspapers as filler can substantially increase your package weight, and thus your shipping costs. Of course, newspapers are free and peanuts aren'tbut peanuts are cheaper than the added shipping costs you'll incur with newspapers. And you can reuse all those peanuts that come in the items you purchase online!
"Mike Sez"
| | |
| --- | --- |
| | I like to keep all my packing materials in a single, easy-to-access placekind of like a ready-to-use packing station. For me, an otherwise -unused kitchen counter does the job; other users clear out a portion of their garage or home office for the same purpose. |
The other materials are somewhat self-explanatoryalthough you might ask why you need a knife when you're packing. I find myself using the knife primarily to slice off old shipping labels from boxes I reuse for my eBay shipping. Although some old labels tear off rather easily, most don't; to remove them, you have to cut (shallowly) around the label and then lift off the outermost layer of the cardboard box.
Where to Find Boxes and Packing Materials
So where do you find all these packing materials and shipping containers? Lots of places.
First, some boxes are free. If you're shipping via the U.S. Postal Service, you can get free Priority Mail and Express Mail boxes, envelopes, and tubes. (Figure 23.1 shows some of the free boxes available for Priority Mail shipping.) Some post offices carry these free containers, or you can order in bulk (but still free) from the United States Postal Service (USPS) website at supplies.usps.gov.
Figure 23.1. Free shipping containers for USPS Priority Mail.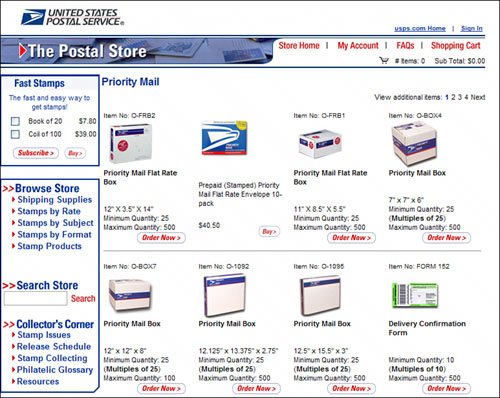 Most post-office locations also sell various types of boxes, padded mailers, mailing tubes, and other packing materials, although their prices tend to be a little on the high side. (They must figure you're a captive customer at that point.) You can find better prices and a much bigger selection at any major office supply superstore (Office Depot, Office Max, Staples, and so on) or at specialty box and shipping stores.
Note
| | |
| --- | --- |
| | Other carriers might or might not offer their own free shipping containers. FedEx, for example, offers certain sizes of envelopes and boxes for your (free) use. It's best to ask firstbefore you go buying an expensive new box. |
Another good source of shipping supplies is eBay itselfor, more accurately, retailers who sell on the eBay service. There are several eBay Store sellers who specialize in packing supplies for other eBay sellers; go to stores.ebay.com and do a search for "shipping supplies" or "boxes."
Many eBay sellers also do a good job recycling old boxes. That's right, you can reuse boxes that were shipped to you, either from other eBay users or from online or direct mail retailers. (I'm a big fan of Amazon.com's boxes; they recycle quite nicely !)
Tip
| | |
| --- | --- |
| | Many of these eBay Stores operate their own websites as well; in particular, check out BubbleFAST (www.bubblefast.com) and eSupplyStore.com (www.esupplystore.com), two well-established supplies retailers. |
You'd be amazed how many times a box can be reused. As long as the box is still structurally soundand sturdy enough for whatever you're shippingit can be pressed back into service. Just be sure to remove or cross out any old shipping labels and confirm that the box is in good shape, with no weak spots or cracksand reinforce the box with new tape, as necessary.
Finally, don't forget your local merchants . These stores receive a lot of merchandise daily, and all those goods are packed in something . All those shipping boxes come into the store, and end up in the trash or recycling bin.
What a retailer calls trash you might call reusable packing materials. Short of dumpster diving (which many eBay sellers are masters of), try making a deal with a local retailer to help dispose of those excess boxes and Styrofoam peanuts. You'll get free packing supplies, and the retailer gets a little less stuff to throw away.
Picking the Right Shipping Container
After you have all your shipping supplies assembled , all you need to do is put your item in a box and seal it up. Easy, right? Not reallyand the consequences of choosing the wrong container can be both disastrous and unnecessarily expensive.
First, you have to decide whether to use a box or an envelope. If you have a very large item to ship, the choice is easy. But what if you have something smaller and flatter, such as a laser disc or a coin? Your choice should be determined by the fragility of your item. If the item can bend or break, choose a box; if not, an envelope is probably a safe choice.
Whichever you choose, pick a container that's large enough to hold your item without the need to force it in or bend it in an inappropriate fashion. Also, make sure that the box has enough extra room to insert cushioning material.
On the other hand, the container shouldn't be so big as to leave room for the item to bounce around. Also, you pay for size and for weight; you don't want to pay to ship anything bigger or heavier than it needs to be.
If you're shipping in an envelope, consider using a bubble-pack envelope or reinforcing the envelope with pieces of cardboard. This is especially vital if your item shouldn't be bent or folded.
If you're shipping in a box, make sure that it's made of heavy, corrugated cardboard and has its flaps intact. Thinner boxessuch as shoe boxes or gift boxessimply aren't strong enough for shipping. When packing a box, never exceed the maximum gross weight for the box, which is usually printed on the bottom flap.
Although a bunch of different- sized boxes are available, sometimes you need something somewhere in between this size and that size box. When you face this situation, you have two choices.
First, you can take a larger box and cut it down. That means cutting through each corner of the box to make it shorter, and then cutting off the ends of the flaps accordingly . Sometimes it's difficult to fold unscored flaps, so you may want to make your own scores by slicing a knife (shallowly) where you want to bend the box closed.
Second, you can combine two smaller boxes. If your box is 16 inches long and your item is 20 inches, just take two boxes and insert the open end of one inside the open end of the other. You'll need to use sufficient packing tape to keep the boxes from sliding apart, but you'll have created a box custom-sized for the item you're shipping.
Caution
| | |
| --- | --- |
| | Use the combination box technique judiciously, because it can significantly increase the weight of the packageand thus your shipping costs. |
How to Pack
Here's what you don't do: Drop your item in an empty box and then seal it up. A loose item in a big box will bounce around and get damaged, guaranteed . (Imagine your box being tossed around by a bunch of gorillas in a parking lot, and you get an accurate picture of what most packages endure in the shipping process.) No, you need to carefully pack your item to minimize any potential damage from dropping and rough handlingand from various weather conditions, including rain, snow, and heat.
How do you pack your box? Professional shippers use Styrofoam peanuts, and lots of them; amateurs tend to use crumpled-up newspapers and other materials found around the house. Here's where you can learn something from the prospeanuts are much lighter than newspaper. Weight is a factor in how much you'll pay for shipping, so anything you can do to lighten the weight of your package is important. Because peanuts cost…well, peanuts , they've become my preferred cushioning material. (And I used to be a crumpled-up newspaper kind of guy, until the latest increase in Priority Mail rates.)
As you might expect, packing needs vary for different types of items. You can use these packing tips when it's time to ship your next item:
If you have the item's original shipping box or packaging, use it! Nothing ships better than the original shipping containerassuming, of course, that the original box is made of shipping-grade cardboard.

If you're shipping a common itemDVDs, videotapes, books, and so onlook for item-specific shipping containers. For example, most office supply stores stock boxes and padded mailers specifically designed for CDs and DVDs. These containers typically do what they're advertised to do.

Always cushion your package contents, using some combination of shredded or crumpled newspapers, bubble wrap, or Styrofoam peanuts. (For example, when I ship a CD or DVD, I wrap it in bubble wrap and cushion it with peanuts.)

Whatever cushioning material you use, don't skimp on it. Pack your items tightly to avoid shifting of contents during transit, and make sure that the cushioning material covers all sides of the item.

Tip

| | |
| --- | --- |
| | You can also use plain (unbuttered!) air-popped popcorn for cushioning; it's inexpensive and environmentally friendlyand tastes good when you're watching a movie! |




Position the item toward the center of the box, away from the bottom, sides, and top. (This means placing peanuts under the item as well as on top of it.)

If you're shipping several items in the same box, wrap each one separately (in separate smaller boxes, if you can), and provide enough cushioning to prevent movement and to keep the items from rubbing against each other.

Not only should items be separated from each other in the box, but they also should be separated from the corners and sides of the box to prevent damage if the box is bumped or dropped.

The preceding point argues for another technique: double-boxing items that are especially fragile, such as glass or ceramic items. That means packing the item tightly in a smaller, form-fitting box, and then placing that box inside a slightly larger, shock - absorbing boxwith at least 3 inches of cushioning material between the boxes.

If your item has any protruding parts , cover them with extra padding or cardboard.

Be careful with the bubble wrap. Although it's great to wrap around objects with flat sides, it can actually damage more fragile figurines or items with lots of little pieces and parts sticking out. If the bubble wrap is too tight, it can snap off any appendages during rough handling.

Stuff glassware and other fragile hollow items, such as vases, with newspaper or other packing material. This provides an extra level of cushioning in case of rough handling.

When shipping jars and other items with lids, either separate the lid from the base with several layers of bubble wrap or tissue paper or (better still) pack the lid in a separate small box.

When shipping framed photographs or artwork, take the glass out of the frame and wrap it separately. Do not let artwork come in direct contact with paper or cardboard.

Wrap paper items (photographs, books, magazines, and so on) in some sort of plastic bag or wrap, to protect against wetness in shipment.

When shipping electronic items (including toys and consumer electronics devices), remove the batteries before you ship. Wrap and place the batteries next to the items in the shipping container.

"Mike Sez"

| | |
| --- | --- |
| | When you're packing an item, watch the weight. I make it a point to have a postal scale at my packing station, and to weigh the itemshipping container and allduring the packing process. When I'm using Priority Mail, the difference between shipping a one-pound package and a one- pound , one-ounce package can be almost two dollars, depending on where it's going. Finding some way to cut that extra ounce of packing material can save almost two bucks in shipping costswhich is why I want to know the weight before I seal the package. |




When shipping computer partscircuit boards , video cards, memory chips, and so onpad the item well and pack it in an Electro Static Discharge (ESD) bag to prevent damaging static buildup. And don't use peanuts for fillerall that Styrofoam can carry a damaging static charge.
After you think you're done packing, gently shake the box. If nothing moves, it's ready to be sealed. If you can hear or feel things rattling around inside, however, it's time to add more cushioning material. (If you can shake it, they can break it!)
Packing for International Customers
Packing for international customers shouldn't be any different from packing for domestic customersas long as you do it right. Foreign shipments are likely to get even rougher treatment than usual, so make sure that the package is packed as securely as possiblewith more than enough cushioning to survive the trip to Japan or Europe or wherever it happens to be going.
What is different about shipping internationally is the paperworkand the shipping costs. I cover all this in Chapter 28, "Selling Internationally," so turn there if you have a non-U.S. buyer to deal with.
How to Seal the Package
After your box is packed, it's time to seal it. A strong seal is essential, so always use tape that is designed for shipping. Be sure to securely seal the center seams at both the top and the bottom of the box. Cover all other seams with tape, and be sure not to leave any open areas that could snag on machinery.
What kind of sealing materials should you use?
Do use tape that is designed for shipping, such as pressure-sensitive tape, nylon-reinforced kraft paper tape, glass-reinforced pressure-sensitive tape, or water-activated paper tape. Whichever tape you use, the wider and heavier, the better. Reinforced is always better than non-reinforced.

Don't use wrapping paper, string, masking tape, or cellophane tape.
One last thing: If you plan to insure your package, leave an untaped area on the cardboard where your postal clerk can stamp "Insured." (Ink doesn't adhere well to tape.)