Switched Local Access Configuration
Switched Local Access Configuration
Switched local access to a network requires a call setup process, such as that found with POTS/PSTN or ISDN-BRI/PRI service. Access to the service provider's network is dependent on the dialed digits of the end- user or programmed PBX.
The customer can access a NSP's LD network in one of two ways, using either a Prescribed Interchange Carrier (PIC) or Carrier Identification Code (CIC). The PIC code is the IXC the customer/end-user designates to carry all 1+10-digit long-distance calls. The CIC is used when the customer/end-user wants to tell the LEC which carrier to use for 1+ service, either via presubscription or casual dialing. Casual dialing is when the customer/end-user dials the 7-digit CIC prior to the 1+10-digit dialed number, such as dialing 10-10-228-1-703-555-1212.
Appendix A "PIC Codes," lists the PIC/CIC codes available for use as of 6/1/2002.


LEC CO Configuration
Local access circuits have two termination points: the customer premise and the LEC CO. Figure 6-7 illustrates a common CO infrastructure.
Figure 6-7. Typical Service Provider POP/CO Infrastructure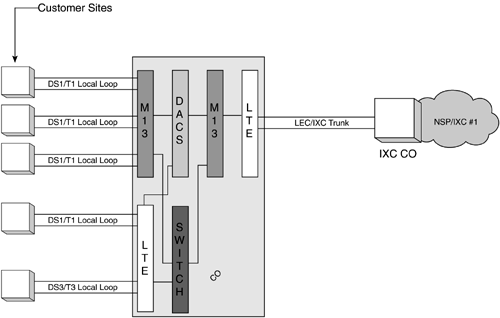 The equipment illustrated here is identified as follows :
Light Termination Equipment (LTE) - Fiber-optic transmissions terminate here, often in the form of fiber or lightwave multiplexers (muxes). LTE can be used to terminate fiber-optic signals from a customer site or for interconnection of fiber- optic signals between LEC/IXC COs. LTE cannot terminate copper facility-based signals; M13's are used for these terminations.

Multiplexer DS1/DS3 (M13), pronounced "M-One-Three" - Performs both multiplexing and demultiplexing functions. Multiplexes 28 DS1 signals into a single DS3 signal for transmission, often terminating to the LTE. Demultiplexes DS3 signals into 28 DS1 signals, often terminating into a DACS (DXC) or voice/data switch. M13s terminate copper-based signals; LTE (Fiber muxes) are used to terminate fiber-optic signals found in "fiber-to-the-curb" (FTTC) implementations .

Digital Cross Connect System (DACS or [DXC]) - They electronically switch the DS0s within each DS1, or DS1s within each DS3. DACS can also be used to provide network timing for dedicated T1 service. Optical DACS are used to switch fiber optic signals, switching DS1/DS3s within higher bandwidth transport, such as OC-x (OC3, OC12, etc.).

Switch - This could be a voice or data (ATM or Frame Relay) switch. The switch is an interface to the respective network for which it provides service, such as voice or data.
Summary
Customer site access to network services (from a NSP) requires a physical connection, often in the form of landline facilities (as opposed to wireless facilities) to the NSP CO or point-of-presence (POP). This local access, also known as the local loop or the last mile , can support both dedicated and switched services, including voice, data, fax, or video services. This local access can be either a copper or fiber- optic based facility, depending on the customer's requirements and the cost and expense of laying new facilities (if necessary).
There are two types of access circuits:
Dedicated - DS0, DS1/DS3, OC-x

Switched - POTS/PSTN, ISDN-BRI/PRI
Dedicated access circuits provide permanent connectivity to a network service provider, whereas switched access circuits provide on-demand connectivity. Switched access requires a call-setup procedure, often in the form of dialing a PIC/CIC from the user interface, unless otherwise programmed into the customer premise PBX or voice switch.
The following components are fundamental to a local access circuit:
CSU/DSU or other signal termination device (for example, WAN interface card (WIC) in a Cisco Series Router

RJ Jack

(Extended) Demarc point

Punch-down block (also known as 66-block)

NIU/NTU

Local Loop (Copper or Fiber)

LEC CO

LEC/IXC trunk between the LEC CO and the IXC CO (depending on the subscribed service; for example, long-distance voice or data service)
The following components are fundamental to a LEC/IXC CO:
LTE - Light termination equipment

M13 - Multiplexer DS1/DS3

DACS (or DXC)

Voice or data switch