Help Viewer
Finishing up our look at the Tiger workspace is the Help Viewer. The Help Viewer provides a simple browserlike interface to help files for many OS Apple and third-party applications. For example, Figure 1.48 shows the basic Tiger help screen.
Figure 1.48. The help system works exactly like a web browser.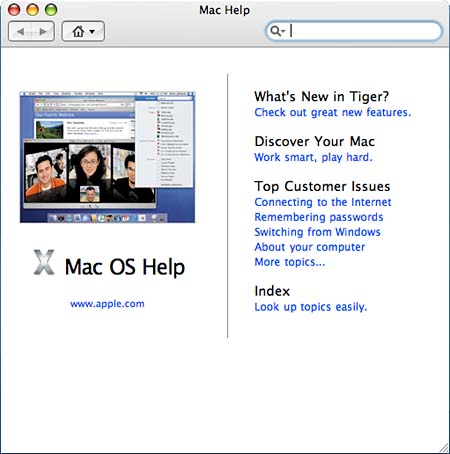 You can click through the browser information just as you would a web browser. Put your mouse over something of interest (it should underline or already be underlined if it is clickable) and then click.
The Tiger help is divided into guides that are automatically installed with your applications. To browse a guide for a particular program, choose it from the Library menu or click and hold the Home button in the toolbar. You can return to the top of the guide you are browsing by single-clicking the home button. The arrows in the window's toolbar move you forward and backward through the pages you've viewed.
To locate specific information, type a few keywords in the Search field, such as open PDFs, and then press the Return key. A few seconds later, the Help Viewer application displays all matching documents that it found, along with a relevance rating and the guide that it was located in. Choose an item in the list and then click Show at the bottom of the viewer to open the corresponding documents.
TIP
The guide index is generated by aliases to individual applications' HTML help folders placed in ~/Library/Documentation/Help. You can copy these aliases to the systemwide /Library/Documentation/Help directory to make them available to all users, or delete them if you don't want the help guide to appear in the list.
To improve the timeliness of information delivered by Help Viewer, below the initial help results Apple also includes online support documents (denoted by a red + icon to the left of each document's title). This information is often related to solving specific problems with a certain technology or feature and is an excellent resource for troubleshooting something that just isn't working as documented.