Finally, we'll add a drop shadow with a combination of settings that replicates a common graphic text effect. We'll use controls in the Font window instead of the Inspector window because the Font window allows a 0 point setting for Blur and the Inspector window doesn't.

Select the text 'Round the Lake Garden Tour.

In the toolbar, click the Fonts icon.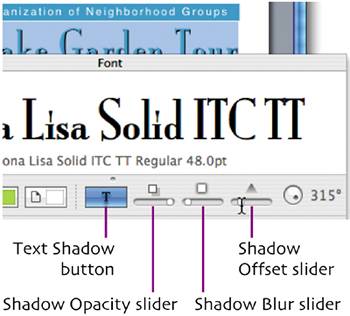 In the Font window, click the Text Shadow button.

Move the Shadow Opacity slider all the way to the right.

Move the Shadow Blur slider all the way to the left.

Move the Shadow Offset slider toward the left side until the shadow on the text appears similar to the image shown here.

Close the Font window and click to deselect the text.


Save your file. Give it a name of your choice.
That's it! Our flyer design is complete and ready to print.