Cakewalk (www.Cakewalk.com)

Cakewalk offers a variety of award-winning multitrack recording products both for the professional and the beginner, such as SONAR, SONAR XL, Home Studio, Home Studio XL, and Metro 5 (Mac).
SONAR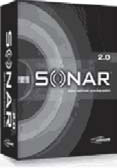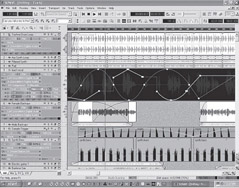 The SONAR multitrack digital recording system is a new generation of professional audio technology for recording, editing, mixing, and delivering music and sound projects for CDs, film and video scores, the Internet, or any multimedia project (available for Windows 98/Me/2000). SONAR has multiport drum editing with grid and pattern-based enhancements and custom drum mapping. It has advanced project management like easy-to-use file management tools, per-project audio folders, intelligent file naming, and more. SONAR's Track view allows for recording, editing, sequencing, and mixing the project from within one global view. Tracks, auxiliary buses, and main outputs are all displayed in the Track view.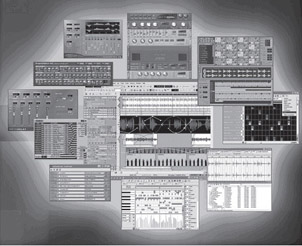 Cakewalk is developing support for OMFI (Open Media Framework Interchange) technology into its flagship SONAR 2.0 digital multitrack recording system. OMFI support for SONAR 2.0 is now in the alpha-testing phase at the company.
OMFI is the film, video, and audio industry's standard for saving and transferring digital postproduction projects between different production studios and workstation platforms. SONAR 2.0 will both import and export OMFI format files and should be available by fall 2002 at no charge to all registered SONAR 2.0 owners.
The company also recently joined the Advanced Authoring Format (AAF) Association—the organization responsible for the continuing development of OMFI-based technology. Cakewalk is the first Windows audio software company to join this influential trade association.
The AAF is a broadly based trade association created to promote the development and adoption of AAF technology. AAF technology allows content creators, editors, and rich media authors to exchange video, audio, images, text, and metadata between applications and builds on existing OMFI technology.
In addition, Cakewalk plans to support Broadcast Wave files in SONAR 2.0 at the same time that it releases support for OMFI files. The Broadcast Wave Format (EBU Standard N22) allows audio material to be interchanged between different computer platforms and broadcast environments. It extends conventional RIFF WAV files by adding metadata, such as creation date and time, material identifier, and time position (SMPTE).
The SONAR 2.0 digital multitrack recording system provides unlimited digital audio and MIDI recording; real-time, fully automatable DirectX 8 audio effects and low-latency DXi software synths; support for Reason and other ReWire-compatible synths; comprehensive audio loop construction and editing tools; support for importing and exporting ACID-format WAV files; flexible project file management; and other professional music production capabilities.
As of January 2003, the prices of SONAR software were:
| SONAR Software | Price |
| --- | --- |
| SONAR 2.1 | $479 |
| SONAR 2.1 XL | $599 |
| SONAR 2.1—upgrade for registered Cakewalk customers | $199 |
| SONAR 2.1 XL—upgrade for registered Cakewalk customers | $249 |
SONAR XL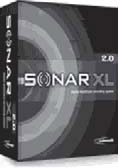 SONAR XL provides all of the capabilities of SONAR, plus two additional 64-bit, fully automatable DirectX 8 mastering effects, an advanced DXi soft synth drum sampler, audio loop libraries, and a SoundFont library (available for Windows 98/Me/2000).
SONAR 2.0 XL provides a fully automatable 64-bit EQ, 30-band spectrum analyzer, and phase meter—perfect for mastering. It features clean and vintage EQ algorithms, high and low cut filters with resonant filter controls, low and high shelf filters, six bands of bell filters, sweepable filter points, and adjustable Q sizes.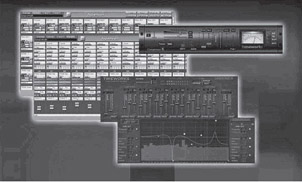 SONAR 2.0 XL's 64-bit, fully automatable audio effect features hard- or soft-knee compression, no-clip brick wall limiting, and ultra-fast attack/release times, as well as analog-style metering.
Cakewalk Home Studio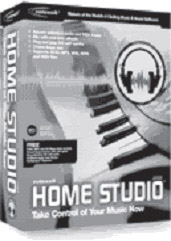 Record your own music on your PC with Cakewalk Home Studio. There is no better Windows software available for musicians taking the step into the world of digital recording. Home Studio provides you with everything you need to turn your PC into a powerful multitrack recording studio.
Home Studio has support for real-time DirectX effects, DXi software synths, MIDI FX plug-ins, and ACID-format audio loop technology that allows you to record unlimited audio and MIDI tracks, mix with real-time audio and MIDI effects, plug and play DXi soft synths, create loops fast, and support ACID-format, MP3, WAV, WMA, and MIDI files. Also included for free are Pyro MP3 and CD Maker (trial version), Virtual Sound Canvas DXi soft synth, DreamStation DXi soft synth, and ACID-format audio loop library.
As of January 2003, Cakewalk Home Studio 2002 retailed for $129.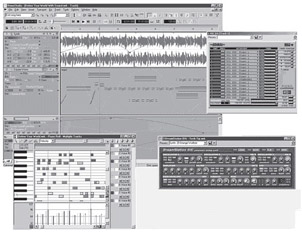 Home Studio XL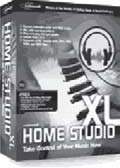 For the musician, project studio producer, or dance/remix artist who's looking for more value, Home Studio XL provides all the capabilities of Home Studio 2002, plus a series of essential plug-ins for mixing and mastering, such as (1) Compressor/Gate—tighten up your mix, bring out the vocals, add punch to tracks, and smooth out performances with a wide dynamic range, (2) Limiter—avoid distortion by keeping audio signals from exceeding a set threshold, (3) Expander/Gate—increase the dynamic range of your recordings (makes loud parts louder and quiet parts quieter), (4) Dynamics Processor—an all-in-one effect that combines all three above effects for more control over your mix, and (5) DR-008 SE Drum Sampler/Synthesizer.
The Cakewalk Loops CD includes a full CD of ACID-format audio loops by leading producers, including Power FX, Smart Loops, and X-MiX and contains many styles such as rock, pop, hip hop, and dance.
As of January 2003, Cakewalk Home Studio XL retailed for $219.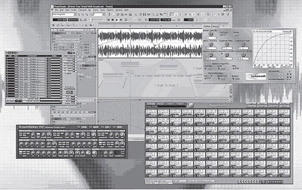 Metro 5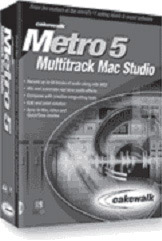 Metro 5 is the complete digital audio and MIDI studio for the Mac. You can record tracks using any musical instrument or sound source, arrange your music with flexible pattern-based sequencing, explore new ideas with creative songwriting tools, mix in real time using automated audio effects, edit and print notation, and even produce scores for film, video, games, and QuickTime movies.
Cakewalk's Metro 5 has an improved user interface for increased musical productivity, supports ASIO-compatible audio cards, and has automated real-time effects processing, up to eight stereo auxiliary buses for routing real-time effects, improved drag-and-drop editing of audio, audio file compression for improved disk storage, VU meters for accurate level monitoring of audio and MIDI, audio scrubbing for quick auditioning of tracks, crossfades with linear and exponential curves, and context-sensitive, searchable online help and online tutorials.
With Cakewalk's Metro 5 you can record up to 64 tracks of digital audio at variable sampling rates from 11.025 kHz to 48 kHz and edit and process with sample accuracy and off-line edits. Cakewalk's Metro 5 multitrack MIDI allows up to 99 tracks of MIDI per section with up to 32 sections per song file where you can edit notes, controllers, tempo, pitch bend, and drum patterns within a single window. Composers can pitch, bend, and transpose notes and edit the drum grid, perform criteria-based editing, velocity editing, and print notation. You can turn MIDI tracks into notation or transcribe a MIDI performance or enter notes with a mouse. Scores can be printed with titles, expression text, dynamic markings, and scalable staves.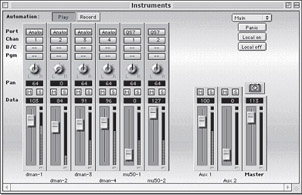 Metro 5's system requirements for recording MIDI only include PowerPC/iMac with 8 MB of RAM or more, Mac-compatible MIDI interface, OMS and QuickTime musical instruments for internal playback, Mac OS System 7.0 or later, and MIDI Timepiece, OMS, Galaxy, SampleCell, and Unisyn v1.0 supported but not required.
Metro 5's system requirements for recording MIDI and audio include PowerPC/iMac capable of 16-bit input, 5 MB RAM free per audio track (real-time effects require additional memory), Sound Manager 3.2 or greater for audio input/output, and QuickTime 2.5 or better required for importing/exporting audio and displaying QuickTime movies.
Metro 5's audio hardware support has, in addition to Apple Sound Manager, support for ASIO-compatible audio devices, including MOTU 2408, AudioMedia III, Event Layla, Yamaha SW1000 XG, Korg 1212 I/0, Sonorus Stud/O, Alesis PRC, and Lucid PCI 24.
As of January 2003 the prices of Metro software were:
| Metro Software | Price |
| --- | --- |
| Cakewalk Metro 5 | $249 |
| Cakewalk Metro 5—for registered customers | $ 49 |
| Cakewalk Metro 5—upgrade from Metro 4.X | $ 49 |
| Cakewalk Metro 5—upgrade from 1.X, 2.X, SE, DECK II, beyond | $ 49 |
| Cakewalk Metro 5—upgrade from Metro 3.X | $ 49 |