The six-source model helps us expand our view of why people do what they do. By looking at all six sources, we can expand our traditional thoughts about why people do the things they do ( they enjoy causing problems! ) to include each person s ability along with the social and environmental factors behind all behavior.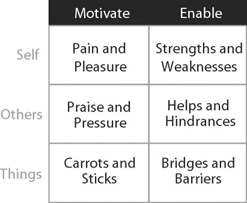 To help dive deeper into each of the six sources, we are providing the following list of exploratory questions. These diagnostic questions in turn help each of us answer the questions: Why the gap? Why did the other person let me down?
Source 1 "Self, Motivate (Pain and Pleasure )
Others take pleasure from the current behavior or find the desired behavior to be painful.
Diagnostic Questions
Do they enjoy doing what has been asked? Does performing the task in and of itself bring them satisfaction?

Do they take pride in their work and their work habits?

Is the required task boring, noxious, repetitive, physically or mentally exhausting, or painful?

Are they doing the wrong thing because they enjoy it more?