Using the Menus
If you have used any kind of computer software written in the past 20 years , you have used menus. The menus across the top of the Elements screen contain the commands that enable you to open and manipulate files. Access them by clicking the name of the menu to open it, and then selecting the desired command from the list. Whenever you see an arrow or an ellipsis ( ) to the right of a menu command, it indicates that there is something more than just that command available. A right-pointing arrow indicates that there's a submenu. An ellipsis means that the menu item leads to a dialog box. Figure 21.12 shows the Elements File menu.
Figure 21.12. The Elements File menu. Note the arrows and ellipses.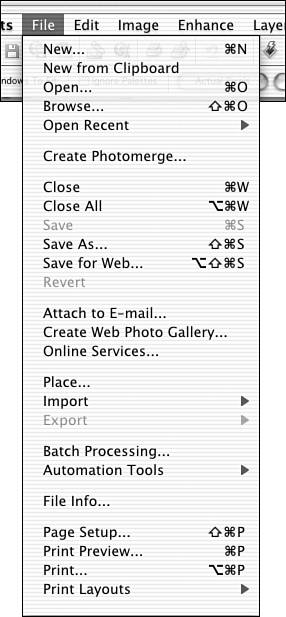 It's no coincidence that you'll find the same set of commands, more or less, on any File menu, and that the cut, copy, and paste commands on Macs and Windows computers are the same. One of the things that makes computers easy to use is the notion of a universal user interface. That's a fancy way to say that you do the same things the same way in most programs. Command/Ctrl-N always starts a new page. Command/Ctrl-Q always quits, and so on. This makes learning a new program simpler. Adobe's taken that even further, in that all Adobe graphics software uses the same tools and working methods . If you master using layers in Elements, as I am sure you will, you'll also know how to use layers in InDesign or Illustrator. As you work your way through this book, you will get a head start on learning the rest of the Adobe software. Similarly, if you already use Illustrator or PageMaker, or even Premiere, you'll find that you already know a lot about Elements. Of course, there's always something new to learn.