After installing Red Hat Linux, you will run through the Setup Agent to configure your system for use. Also, at some point you may need to troubleshoot your installation or remove Red Hat Linux from your system altogether. This chapter shows you how to perform all of these post-installation tasks.
Setup Agent
The first time you start your Red Hat Linux system, you will be presented with the Setup Agent, which guides you through the initial Red Hat Linux configuration. Using this tool, you can set your system time and date, install software, register your machine with the Red Hat Network, and more.
Setting the Date and Time
Setup Agent lets you set your machine's date and time, or lets you synchronize your date and time with an network time server — a machine that sends date and time information to your machine through a network connection.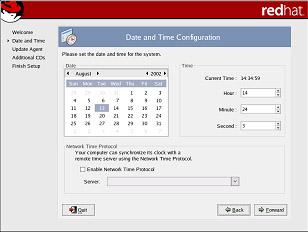 Figure 4-1. Date and Time Configuration
You can set the day, month, and year using the calendar tool and set your time in hours, minutes, and seconds using provided text boxes. After setting your time and date, click Forward to continue.
If you wish to register your system with the Red Hat Network and receive automatic updates of your Red Hat Linux system, choose Yes, I would like to register with Red Hat Network. This will start the Red Hat Update Agent — a utility that guides you step-by-step through the registration of your machine with the Red Hat Network. Selecting No, I do not want to register my machine skips the registration. For more information about Red Hat Network and registering your machine, refer to the Red Hat Network documentation at the following URL:
 http://www.redhat.com/docs/manuals/RHNetwork/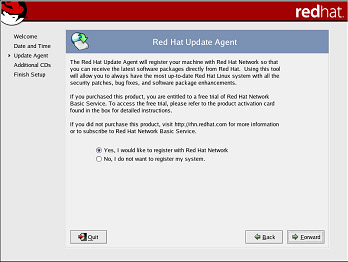 Figure 4-2. Red Hat Network Registration Client
If you want to install Red Hat Linux RPM packages that you did not install during installation, software from third-party providers, or documentation from the Official Red Hat Linux Documentation CD, you can do so at the Install Additional Software screen. Insert the CD containing the software or documentation you want to install, click the Install . . . button, and follow the instructions.
Note

If you are installing a package from the Red Hat Linux installation CDs, you must insert CD #1, click the Install... button, choose the package(s) or component you want to install, and change the CD if prompted.


Figure 4-3. Installing Additional Software
Now your system is configured. You are ready to log in and start using Red Hat Linux. See Part II for information on using Red Hat Linux.