desktop sharing software allows you to control one computer's screen from another computer. in order to connect to a machine running windows xp, the computer you're connecting to must have xp professional installed. you can use xp home to connect to an xp pro machine, but not vice versa. don't worry, home users are not out of luck (well, they are as far as windows is concerned but i will discuss a third-party alternative). transferring files between computers is better done with ftp, however if you need to help somebody troubleshoot a problem or just seriously mess with their head then remote desktop is the answer.
before proceeding, it is probably a good idea to change the name of your administrator account to something other than "administrator" and make sure that every user is using a password; otherwise anyone can potentially access and control your computer.
ready? click start, right-click "my computer," and then click the "remote" tab and check the box titled "allow computers to connect remotely to this computer." the "select remote users" button allows you to select which users can access the computer remotely. now back to your add/remove programs in the control panel (you may need your xp cd). click the "add/remove windows components" in the left pane, highlight "internet information services," and click the "details" button. check + highlight "world wide web service" and click the "details" button. now put a check beside "remote desktop web connection" and click ok, ok, and next. okay? okay…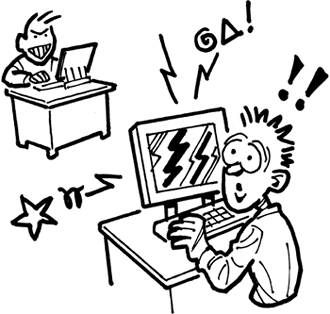 to access your computer remotely you have two options. one, use the built-in xp client, which can be found in start > all programs > accessories > communications > remote desktop connection, or if it's not installed (or you're not using xp) then you can download it from microsoft.com.
the second option is to use the remote desktop web connection, which would allow you to access the computer via ie rather than the client program. to connect to a computer remotely from any computer using ie >= 4 (that's greater than or equal to version 4), simply type: http://yourip:port/tsweb
make sure your firewall/router allows access as discussed previously…
an alternative to xp pro's remote desktop is via third party software. a popular and open-source desktop sharing utility is realvnc (www.realvnc.com). it should be pretty self-explanatory. once installed, you've got a "viewer" and a "server" where the viewer can be used to connect to another machine running the server (which could be running hidden even though this is not a built-in feature). once again, you'll have to make sure your firewall and/or router are configured to allow access. if you're interested in modifying the software's source code you'll want to take up the language c++ and get your hands on a compiler.