LBMS User Scenarios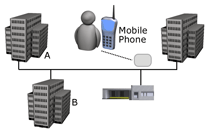 The prototypical LBMS is navigation from A to B
The capabilities of a navigation service delivery architecture are typically focused on mobility—planning and executing travel in the real world. The prototypical location-based mobile service is guidance along a route that takes the user from a starting location to a selected destination. The core components are data communications between a model of the world where guidance is computed, and the ability of the mobile device to be located in the real world. The guidance reflects the current situation of the traveler.
The first systems were autonomous. All functionality resided in the mobile terminal, typically a rather large and expensive box in a car. Data communication was simple, reliable, and high bandwidth because it happened inside the on-board memory of the device. Reaching the mass-market means reaching less capable terminals. This means moving the model of the world and the computations partially or wholly to a remote server, accessible via a network connection with uncertain availability and latency, and low bandwidth.
Much of the functionality of a mobile or navigation service provider s delivery system provides simple and standard service interfaces that hide the complex implementations needed to meet the commercial requirements of a mass-market location-based application.