---
Boynton & Zmud (1987) defined IT planning as organizational activities directed towards (1) recognizing organizational opportunities for using IT; (2) determining the resource requirements to exploit these opportunities; and (3) developing strategies and action plans for realizing these opportunities. Through IT planning, organizations identify valuable IT projects that provide higher payback, have a strategic impact, and reinforce the competitive posture of the organization (Salmela et al., 2000). Planning activities can take place within a rational sequential framework of decision-making, but also piecemeal, adaptively, and in small increments.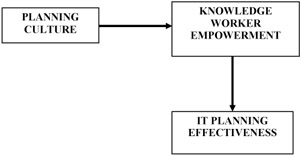 Existing models of IT planning, however, are primarily based on comprehensive and formal planning (Salmela et al., 2000). They rarely tackle issues of knowledge workers participation in planning activities and are mostly concerned with methodology and tools rather than process (see Henderson & Sifonis, 1987). Hence, they fail to draw upon the full human potential throughout the organization (Bourgeois & Brodwin, 1983; Florida & Kenney, 1991). The basic limitations of formal IT planning can be pinned down to two main points:
In a fast changing environment, information and knowledge relevant to planning might be available in different parts of the organization but remain un-accessible to planners on time because of the lack of efficient input mechanisms into the planning process.

The lack of genuine participation of knowledge workers in IT plan formulation might jeopardize the implementation of IT plans. The ensuing split between thinkers and doers (Bourgeois & Brodwin, 1983) erodes doers' motivation to champion changes for which they have limited say and understanding.
IT Planning Effectiveness
There has not been a more controversial issue in IT planning and development research than the issue of evaluating the effectiveness of planning and development processes. After the failure of early attempts to evaluate IT investments through a traditional cost-benefit analysis (Emory, 1971), different approaches have been taken to evaluate the effectiveness of IT investments and a myriad of outcome variables have been advocated as surrogates for evaluating IT planning processes, including the development of strategic applications of IT (King & Teo, 1996), productivity, business profitability and customer surplus (Hitt & Brynjolfsson, 1996), improved customer service, cost-reduction, timeliness of interactions with customers, higher product and service quality, support for reengineering efforts, and better flexibility (Brynjolfsson, 1994). However no consensus has ever emerged on any of these variables and is not likely to emerge given the various theoretical approaches to studying IT planning and its expected benefits. IT planning effectiveness, indeed, cannot be considered outside of the nomological network of constructs within which it is theoretically advocated (see Saxton, 1987). Joining with earlier research on the topic, the IT planning effectiveness construct for this study and its subsequent measure are thus set in line with the IT planning theory advocated.
Learning through Planning
Eclectic planning is most effective when it harnesses the collective intelligence of knowledge workers and translates it into plans, strategies, and various IT solutions that are beneficial to the organization. It also provides the organization with an enhanced capability to react to external and internal contingencies through the accumulated learning that is the result of knowledge workers' involvement in IT planning. This basically calls for creating appropriate conditions for harnessing knowledge work and allowing for a learning process to take place. Indeed, knowledge workers' planning behavior enhances their understanding of planning issues. De Geus (1988) argues that planning is not about making plans but about learning new ways of coping with new contingencies and developing appropriate responses. Leonard-Barton (1992) views the organizational planning process as a process of knowledge creation, collection, and control that aims at establishing a learning environment premised on egalitarianism, whereby all individuals contribute to the joint enterprise and acquire new competencies. IT planning is a process of continuous decision-making shared by the business and the IS function. Its emphasis is on organizational learning about business problems, opportunities and IT contribution (Earl, 1993). This learning dimension will be the cornerstone for measuring IT planning effectiveness as detailed in the research design section.
---